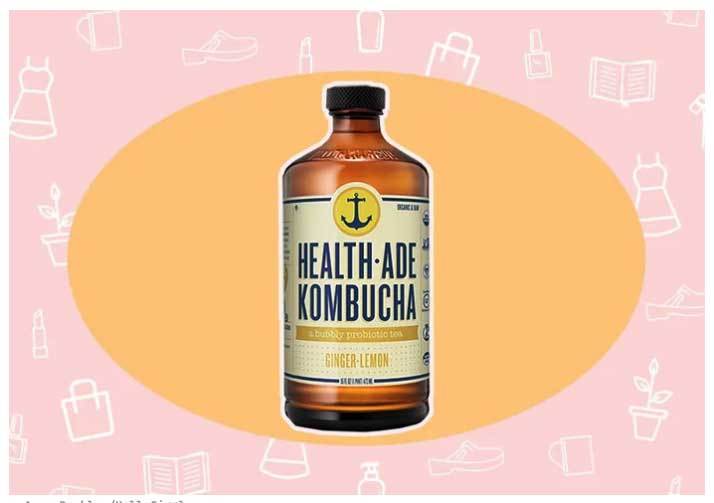 PRESS |
WANT/NEED: The kombucha drink that helped me kick my diet soda habit!
Copied URL to clipboard!
Welcome to Want/Need, a daily roundup of the things our Deputy Editor, Emily Popp, is currently coveting. It might be a pair of pink leather loafers that make her feel like she's got her s*#t together, or a pool float in the shape of an avocado (because she's not over the novelty pool float trend). Or maybe it's as random as, like, dryer sheets. Basically this is all the stuff she's obsessed with. Poppy's picks, if you will.
Health-Ade Ginger Lemon Kombucha
I've never met a kombucha I haven't liked, but my all-time favorite, classic go-to is definitely Health-Ade's ginger lemon flavor. It's got that perfect effervescence and just the right amount of ginger. I'm a Goldilocks when it comes to ginger—other kombuchas either have too much and it's overpowering or they don't have enough. Heath-Ade's is juuuust right. I first started drinking kombucha when I was trying to kick my bad diet soda habit and wanted something that would give me a pep in my step and have some sparkling fizz to it—but was way healthier. Whenever I felt the need to snap open a can of soda, I'd instead drink kombucha, and it really helped curb my soda addiction. I felt so much better for it and way less sluggish throughout the day. This drink has been a game-changer for me.
To read the full article, please visit: https://hellogiggles.com/shopping/want-need-kombucha-helped-kick-diet-soda-habit-more/
Today's blog is written by our very own Daina Trout, MS, MPH
Catch up on The Digest
Your go-to spot for digestible gut-talk