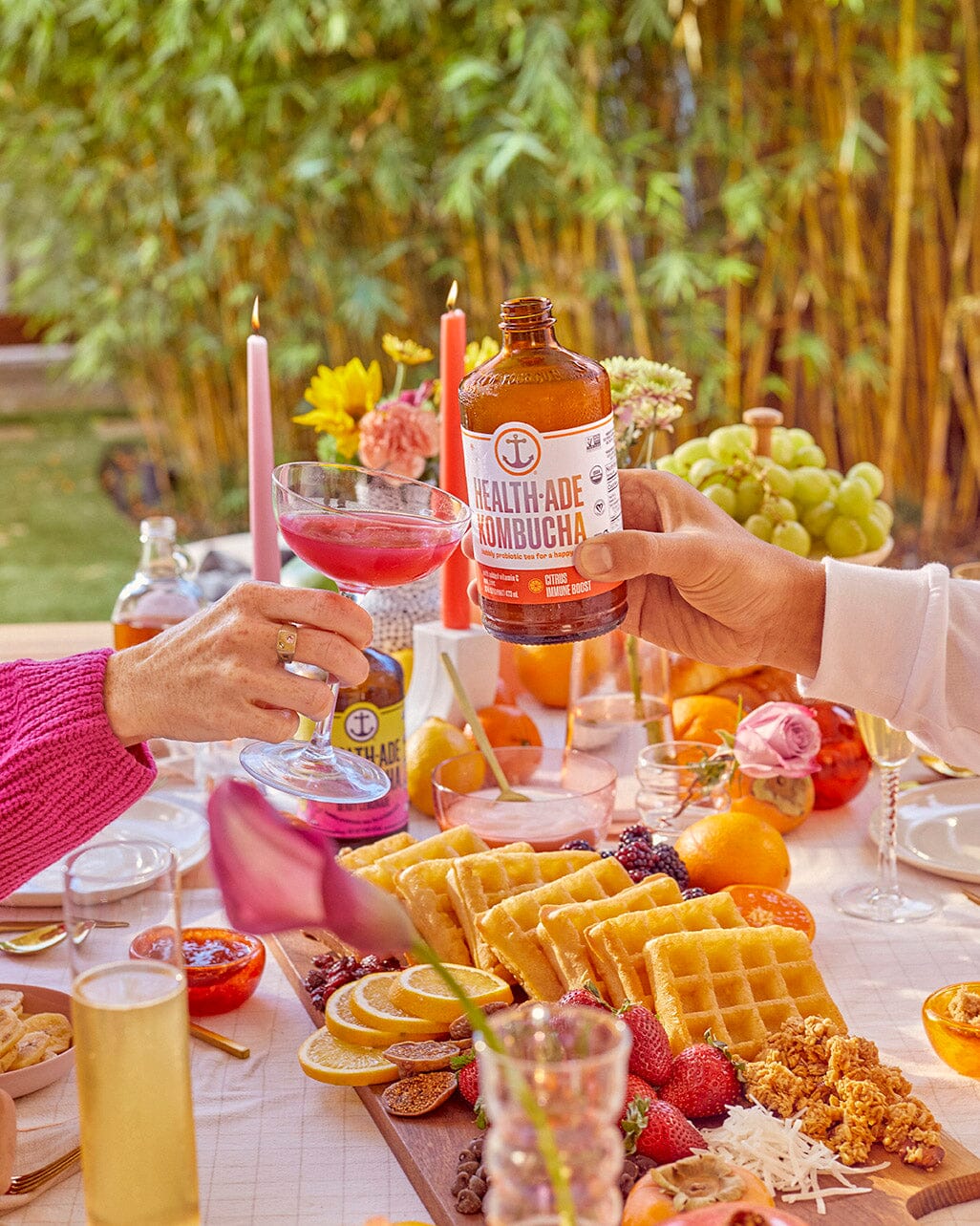 HEALTH AND WELLNESS |
WTF is Mindful Drinking and How Do I Start
Copied URL to clipboard!
SOBER-CURIOUS BUT STILL ON THE FENCE? EXPLORE MINDFUL DRINKING WITH US.
You probably know that alcohol is bad for the body and the gut, so I won't waste your time today diving deep (for a refresher, check out my blog on Alcohol and the Gut from last year). To summarize, excess drinking wounds our microbiome, injures the gut lining, interferes with our ability to digest things, and messes with our intestinal circadian proteins. All this results in things like bad sleep, decreased immunity, bloating and indigestion, feeling terrible the next day (even days), and chronic inflammation. It truly wreaks havoc if we drink too much and too often.
Given all this, it's not surprising 1 in 5 Americans are committing to join the "Dry January" movement this new year, up 13% from last year. While any restriction on alcohol is probably good for our guts in the short term, there is evidence to demonstrate that a rigid approach to anything dietary isn't sustainable in the long term, and that a more mindful approach is best. Plus, cutting back is better than doing nothing at all - so if that sounds more doable to you than cutting out alcohol out altogether, you're not alone: a whopping 47% of Americans want to reduce their alcohol intake this year, but are struggling on how to do it. My recco? Practice consuming more mindfully.
What does MINDFUL drinking mean?
In short, mindful drinking means being intentional when making decisions around alcohol. The idea is that when you're actively paying attention, and not just "mindlessly" having another drink, you will make better decisions. Mindful drinking can help you find a way to get the best of both worlds - social activities, a full night's sleep, and a hangover-free morning! If you're not ready to go all in on Dry January, here are some tips on how to try mindful drinking instead:
Have a plan before you start. You are more likely to hit a goal if you pro-actively and intentionally set one. Want to keep it to 2 drinks for your happy hour soiree? Say so out loud before you begin. Bonus if you write it down and tell a friend or partner.
Play the 3-2-1 game. Think of or notice THREE things you taste, TWO things you smell, and 1 thing you see about each drink before you drink it. This is a way to connect yourself to the moment and give some "substance" to what you're about to imbibe, which increases the likelihood you will be mindful as you consume it.
Start AND alternate with water. Having a goal of 2 drinks can be a tough thing to muster when the party starts at 4pm and is expected to go all night - starting with a glass of water and having a glass of water in between each alcoholic drink can be helpful ways to get you there. Sick of water? Try booch in a wine glass!
Ask for half the booze. You can't do this with wine or beer, but if it's a hand-made cocktail you can always ask the bartender to make it "half strong," so you can have 2 drinks for the bodily "cost" of 1.
Prep a way to say "No". Let's face it, we all have pushy friends, and especially if you're out-of-the-blue drinking less, it can feel awkward to abstain. It's a great idea to plan for this and have a statement on how you'd like to say "No, thanks" that fits your vibe. I personally like to say - "I'm trying to pace myself, starting with a water!"
Whatever your reason for wanting to cut back, your gut would probably agree with the idea of drinking a little less alcohol this holiday season. For us at Health-Ade, we believe in the health it takes to be happy — not perfect. No matter what your new year's goals look like, know that we support you on your journey! And if you're interested in practicing more mindful drinking, our team will be doing ~damp~ January too. Stay tuned for delicious mocktail recipes, tips, tricks, and more. Cheers to the best year yet!
Today's blog is written by our very own Daina Trout, MS, MPH
Catch up on The Digest
Your go-to spot for digestible gut-talk