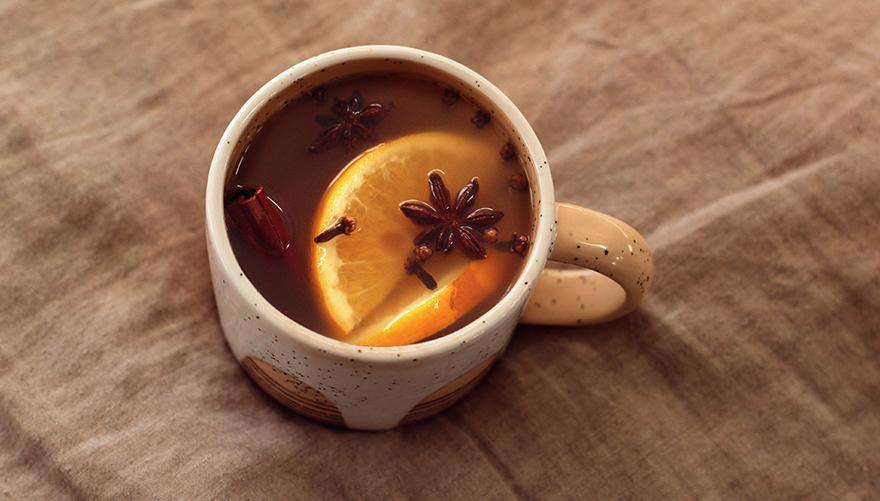 RECIPES |
This Hot Apple Cider Recipe is Perfect for Fall
Copied URL to clipboard!
Part of the joy of cool weather is being able to have hot drinks. I much prefer hot drinks to cold drinks, so give me alllll the soups, stews, and teas. I'm putting a twist on a fall cult classic and one of my favorite warm drinks. (Spoiler alert: No, it's not a pumpkin spice latte.)
It's hot apple cider!
I don't know about you, but I have fond memories of my mom cooking hot apple cider on the stove at our cozy farmhouse in Connecticut. The smell of apples, cinnamon, and nutmeg would permeate throughout every room. When the cider was poured, I'd wrap my little 7-year-old hands around the mug and let the steam warm my face. For this recipe, I added a ton of rich, warming spices, but you can feel free to pick and choose to omit any if you so desire.
HOT APPLE KOMBUCHA CIDER 
Serves 1-2
INGREDIENTS
1 16oz Pink Lady Apple Health-Ade Kombucha
½ medium navel orange, sliced
2 Tsp whole cloves
2-3 cinnamon sticks
2 star anise
1 Tsp freshly grated ginger
1/2 Tsp freshly grated nutmeg
DIRECTIONS
Heat the kombucha, cinnamon, nutmeg, cloves, and orange slices in a saucepan. Cook over medium heat—stirring occasionally—until the mixture is warm but not boiling.
Ladle or strain into a heat-resistant pitcher or individual mugs. Sip and enjoy!
Today's blog is written by our very own Daina Trout, MS, MPH
Catch up on The Digest
Your go-to spot for digestible gut-talk