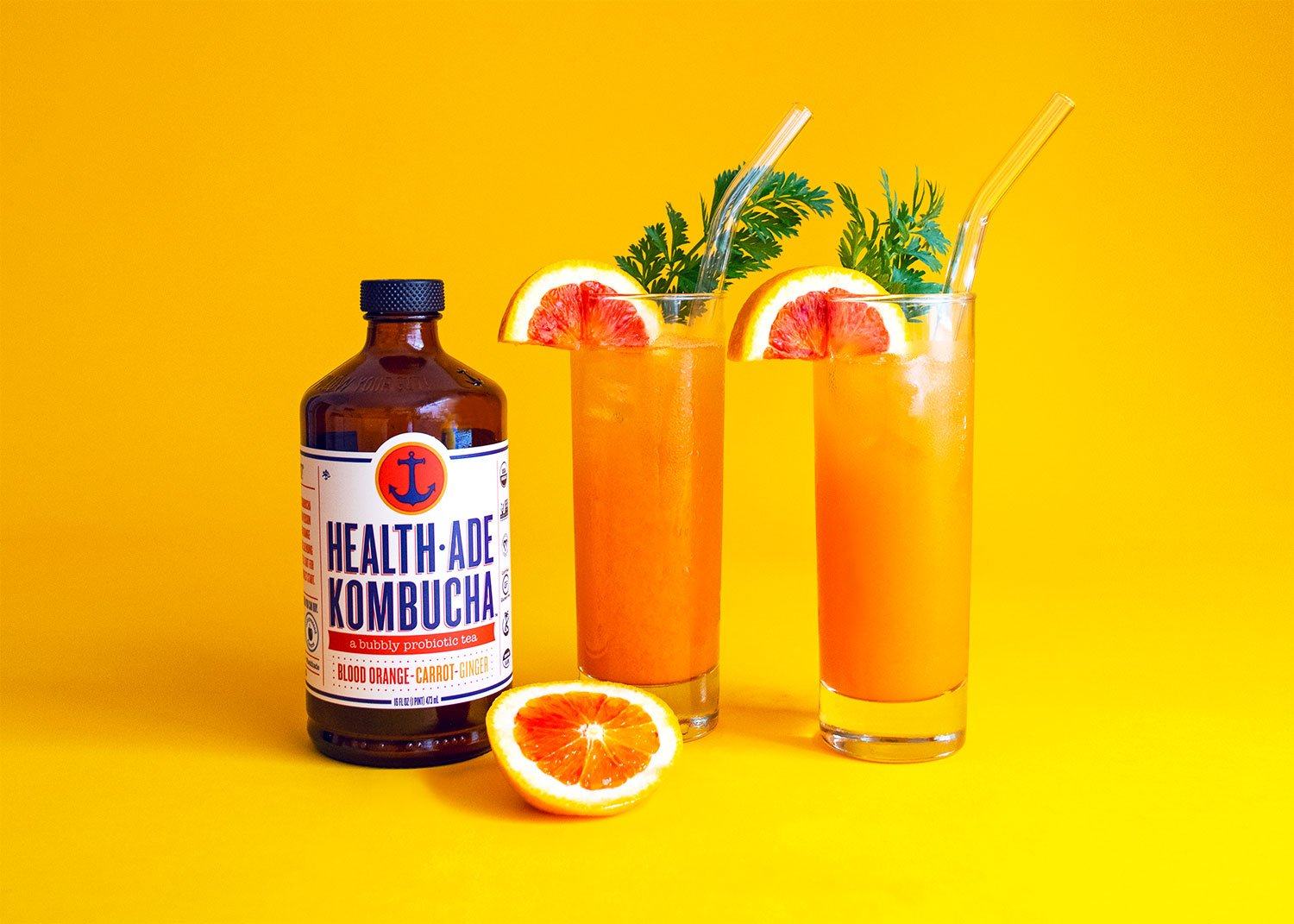 RECIPES |
Spring is Here With This Blood Orange-Carrot-Ginger Cocktail!
Copied URL to clipboard!
The coming of daylight savings time each spring marks a definitive moment for many–a time of hope for those in wintry climates that spring is finally coming; that there is a light at the end of the dark frozen tunnel; and that there are long days of sunshine ahead.
This recipe is an ode to Minnesota, a place I will always call home. Inspired by my deeply-engrained (and uniquely-Minnesotan) desire to continuously discuss the weather and cherish the lightness of spring after a hard winter, it is a celebratory ray of liquid sunshine. Blood Orange-Carrot-Ginger Health-ade kombucha serves as the perfect effervescent backdrop to the herbal brightness of aquavit, a spirit very common in the Scandinavian heritages of many Minnesotans, and the combination of flavors also happens to be inspired by one of my favorite distilleries back home.
While I'm now miles and miles away, a piece of my heart will always be in Minnesota, and so I raise a glass of this bright and bursty cocktail to all my loved ones back home. Cheers to spring!
For the ginger-honey simple syrup:
2 cups water
1 cup good-quality, flavorful honey
1/4 cup coarsely chopped fresh ginger (you can leave the skin on)
For the cocktails:
2 tbsp. ginger-honey simple syrup
1 small lemon, juiced
1 16-oz. bottle Blood Orange-Carrot-Ginger Health-Ade Kombucha
6 tbsp (2-3 oz) good quality clear aquavit
Fresh carrot juice (a carrot-ginger-orange juice works well here too if you can find it!)
Make the simple syrup: In a small-medium saucepan, combine all simple syrup ingredients over medium-low heat, stirring constantly until mixture starts to simmer. Reduce heat to the lowest setting possible, and continue to cook, stirring occasionally and making sure the syrup doesn't burn, for an hour, until mixture has darkened slightly and reduced down to a syrup texture. Remove from the heat and allow to cool completely, then strain the ginger pieces from the liquid and store until ready to use. This can be made far ahead of time! It will keep for awhile.
Make the cocktails: In a large mason bar or cocktail shaker, combine all the cocktail ingredients except for the carrot juice. Add a few ice cubes, place the lid on the jar, and shake gently until well-combined. Be careful not to over-shake, or the kombucha will get too fizzy!
Divide the mixture between 2-3 cocktail glasses filled with ice, then top the drinks off with a generous splash of carrot juice. Garnish with fresh blood orange slices, and carrot tops (optional) for a dose of fresh green springiness. Enjoy with the ones that you love.
NOTE: Feel free to adjust the ingredient ratios to your tastes for this. Add more aquavit or lemon if you prefer something stronger and more tart, or leave out the aquavit altogether for a deliciously sweet and refreshing non-alcoholic version.
Today's blog is written by our very own Daina Trout, MS, MPH
Catch up on The Digest
Your go-to spot for digestible gut-talk