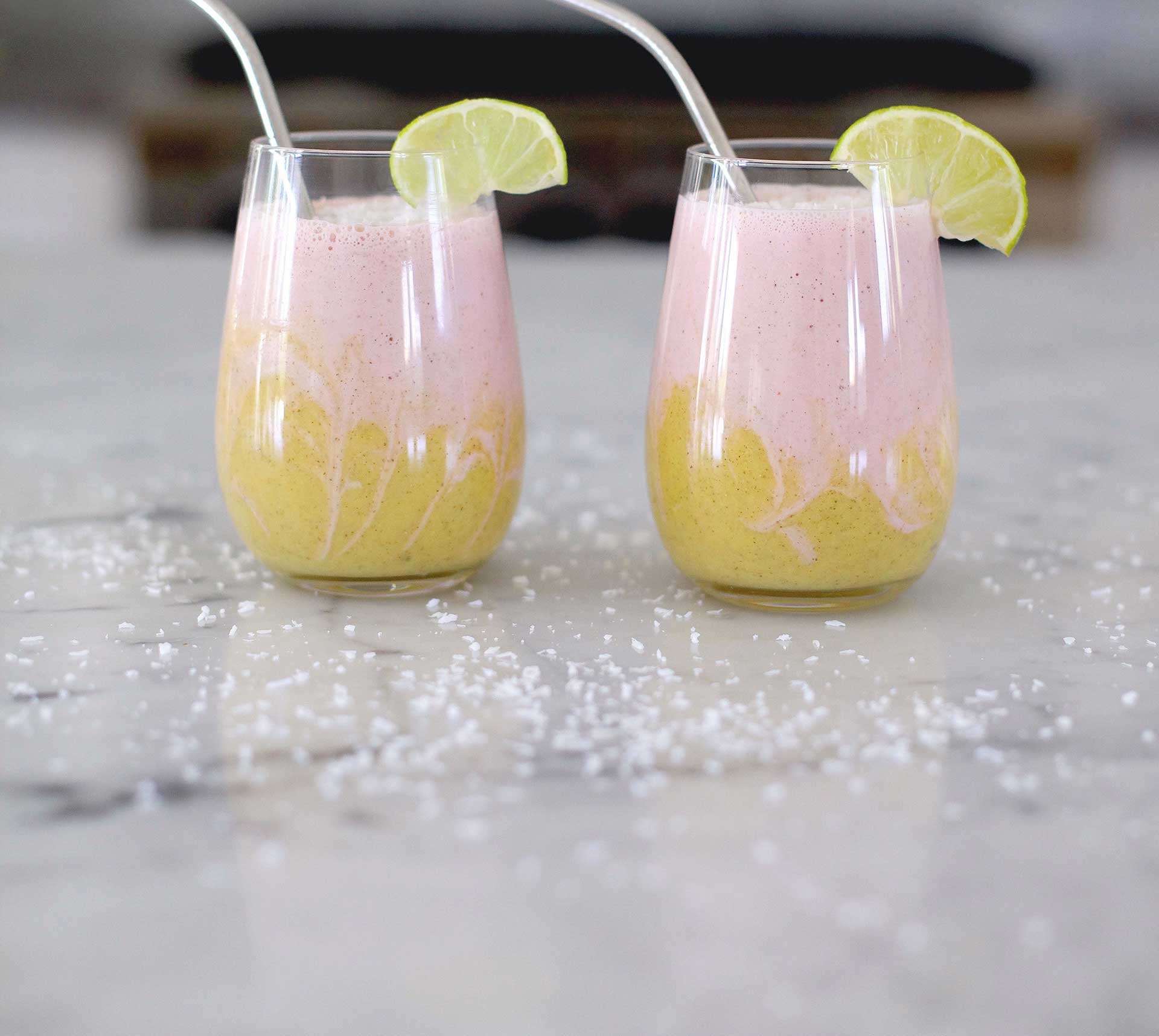 RECIPES |
A Spicy Mango Sunrise Kombucha-Infused Smoothie
Copied URL to clipboard!
The following is a guest post by Micaela Hoo, a blogger, photographer, and graphic designer who loves color, crunchy apples, summertime, and self-care. You can find Micaela's blog here.
There are a lot of summer fruits I love, but one fruit I can't get enough of are mangoes. My favorite type of mangoes are the small tangy sweet manila mangoes.
When they're in season during the summer, my favorite grocery store, Berkeley Bowl, will sell them by the flat for $6. This smoothie merges the best of both worlds.
The zesty combination of the cayenne pepper, lime, and ginger in Health-Ade's Cayenne Cleanse kombucha forms the perfect base for a morning smoothie that will kickstart your day with gusto.
The coconut milk and spinach lightens the assault of the spicy cayenne and ginger (though if you love spice, feel free to add more cayenne on your own). If you really want to go the whole nine yards, try your hand at making your own coconut yogurt (recipe linked below)!
Spicy Mango Sunrise Smoothie
Serving: 2
BASE
2 small manila mangoes (optional frozen)
1 cup fresh spinach
½ cup Cayenne Cleanse Kombucha
1 ½ cup light coconut milk
2 tbsp chia seeds
STRAWBERRY COCONUT SWIRL
½ cup Greek yogurt or full fat coconut yogurt (recipe here)
½ cup coconut milk
½ cup strawberries
GARNISHES
Coconut flakes
Strawberries
Lime wedge
DIRECTIONS
In a high speed blender, blend the base ingredients together until smooth and pour the mixture into your glasses.
Clean your blender, then add strawberry coconut swirl ingredients. Blend together until smooth. The texture should be a whipped/mousse consistency and the color should be light pink.
Slowly pour the strawberry coconut swirl mixture into your glasses and using a small stainless steel object (a dessert spoon works wonderfully!), very carefully push it down in spiral and swirl patterns.
Garnish with coconut flakes, strawberries, and a lime wedge.
Today's blog is written by our very own Daina Trout, MS, MPH
Catch up on The Digest
Your go-to spot for digestible gut-talk