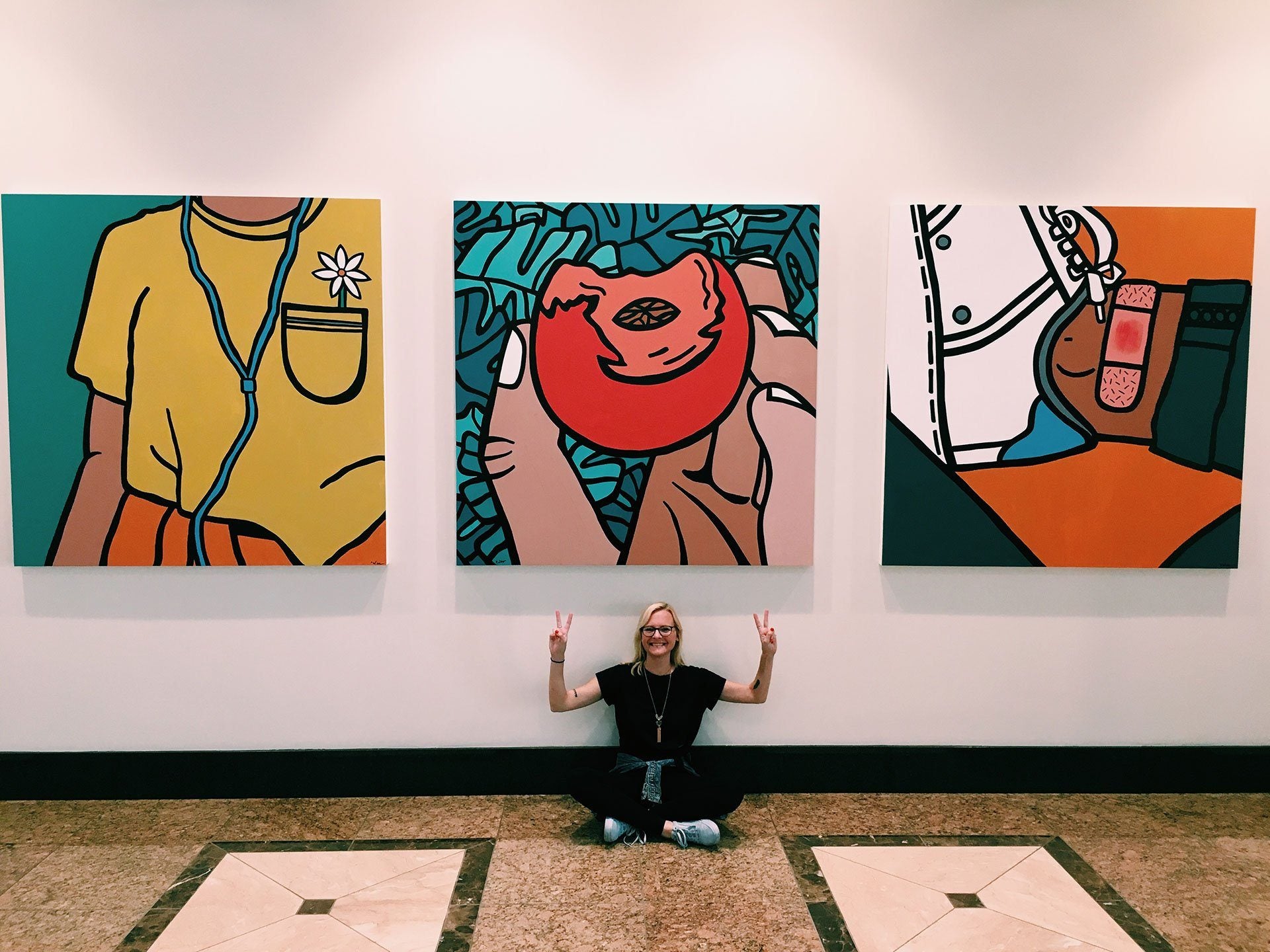 OTHER |
Q&A with Priscilla Witte
Copied URL to clipboard!
Explain who you are and what you do!
Hello! I'm Priscilla Witte, a Los Angeles based illustrator, painter, and muralist.
How did you get here? Did you always know that you were meant to be an artist?
I was born and raised in a small town in Upstate NY, just outside of the Adirondack Mountains. When I was 19 years old, I took a fateful trip to Southern California for the summer and ended up loving it so much that I stayed! I fell in love with the California lifestyle and the sunshine. I've always had a love for the arts and although I've drawn and painted all my life, I never thought it would turn into a career. I was just doing something that I loved doing with no larger expectations. There was never a great plan. I was figuring it out as it was going along. Lucky for me it all worked out! I love my job! Keep it coming! 
What does a typical day look like for you?
I wish that my days could be a bit more typical. They are all very different depending upon what it is I'm working on. I spend most days trying to stay organized!  Some days I wake up and answer a ton of emails regarding projects. Some days I'm in full creative mode working on said projects and other days I'm off painting a wall God knows where. Hah! 
Who or what inspires you?
The fact that I can make people happy through my work keeps me inspired and drives me to create all of the goodness!
Describe the "happiest and healthiest" version of yourself.
The happiest and healthiest version of myself is getting up early, starting my day with a bottle of Health-Ade Kombucha (wink wink). I'd say it's when I'm feeling like I've had enough relaxing or me time. When I take the time to breathe, take a long walk with my dog and husband, go cycling (for my body and mind). When I slow down and take a step back from the hustle and bustle of basically running my own business while also being the creative. Also, when I'm taking the time to create for myself. Oh, and allowing myself to take weekends off! It's all about the balance! (Btw- I wasn't joking…I love your kombucha!)
Best advice you ever received?
The best advise that I've ever received (a few times) is "Don't ever stop being yourself." I don't think I ever will. 
One thing on your bucket list?
One thing on my bucket list?! But there are so many things! … I'd love to keep traveling and painting across the globe. I would also love a HUGE (affordable) studio. I'm picturing glass windows, birds chirping, lots of light, quiet, in nature. That sounds so dreamy to me! 
Favorite Health-Ade flavor?
My favorite flavor is Pink Lady Apple! I get very excited when I'm on location painting a mural or in a meeting and the company happens to have it on tap! 
Favorite project worked on to date?
Eek! Tough question. I'd have to say my favorite projects have been the projects that I get to travel the world doing! It's such an AWESOME feeling to be flown to another country to paint! I've gotten to go to so many wonderful places that I may never have gone before. I painted a boutique hotel in Croatia, a life guard tower in Russia on the Black Sea, a home in Bali, and was the artist in residence in Tuscany. Most of which happened just last year! It's been amazing. More of that please! 
What's up next for you? Any exciting projects or trips we can look out for?
There has been some talk of a Thailand project in the works, so that would be cool! I've been working so much in Los Angeles this year and it's actually been pretty nice. Just wrapped up a mural at Google last week and have a bunch of murals lined up! The next project I'll be working on is a mural for the World Surf League in Santa Monica. Super excited for it!
What does "Follow Your Gut" mean to you?
Follow your gut is exactly what I've been doing since I moved to California years ago. Trusting that everything in life would work out somehow. (Looking back, that seems scary!) But I still do live my life that way. I work really hard and I try not to think too much about it!  I always keep my mind moving forward and am constantly creating, creating, creating. I will never stop!  
Today's blog is written by our very own Daina Trout, MS, MPH
Catch up on The Digest
Your go-to spot for digestible gut-talk