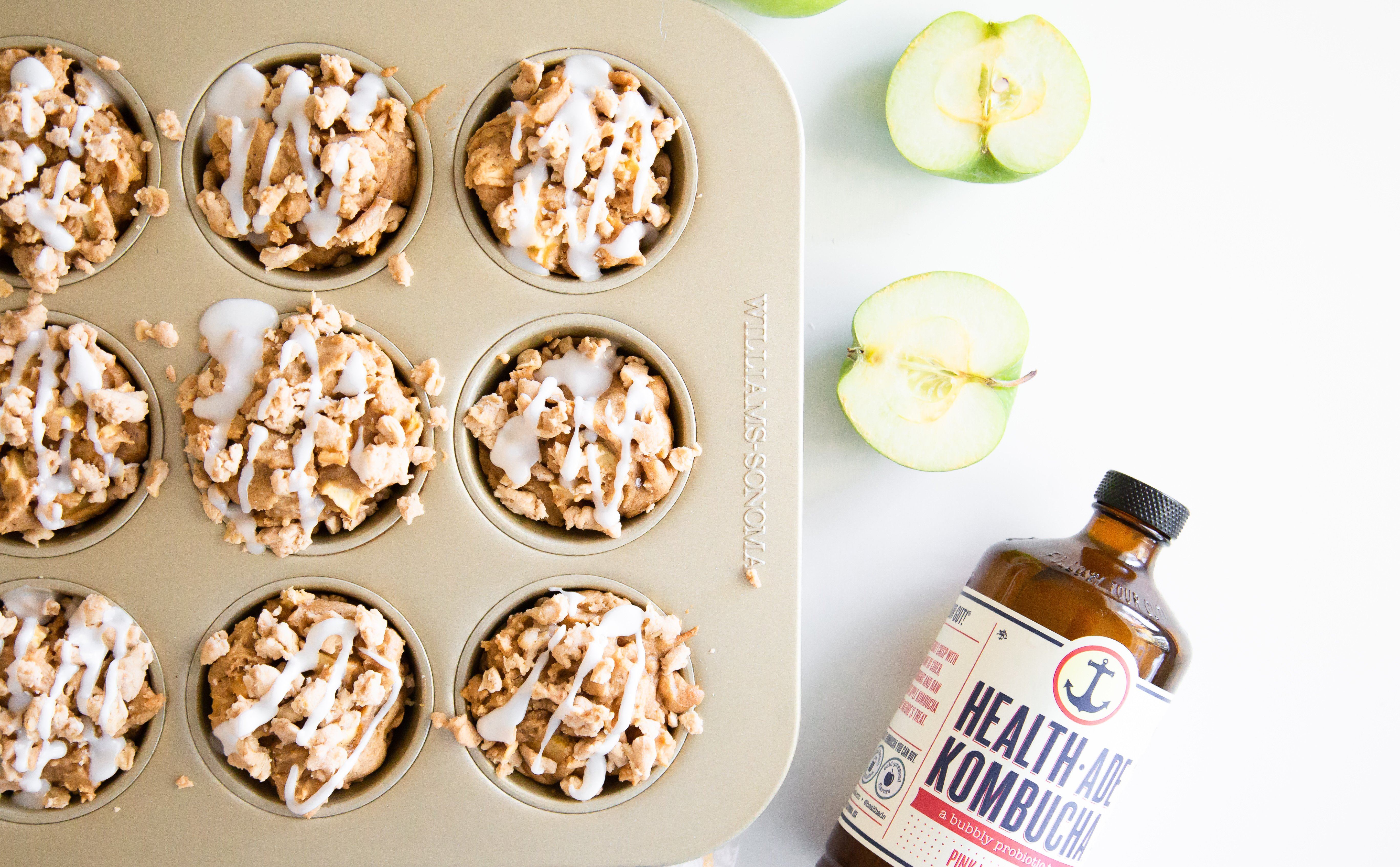 OTHER |
On The Menu: Kombucha Apple Spice Cupcakes Perfect for Thanksgiving!
Copied URL to clipboard!
Leaves have fallen, the air is starting to get REALLY crisp and all I can think about is apple spice, cinnamon and cozy nights by the fire!
Hi! I'm Paige, a professional food photographer, as well as a gluten-free and vegan recipe developer. Apples and all things cinnamon make my heart sing, truly apple season is the most wonderful time of the year!
I live in a neighborhood here in Utah that is known for the abundance of fruit trees! When the weather started getting cool enough, apple blossoms started to bloom and form buds. Soon, the trees were heavy with apples and ready to pick! I have been knees deep in our neighborhood harvest and loving every moment of it! 
From baked apples and cinnamon, to apple fritters and now my kombucha apple spice cupcakes, I have been embracing the harvest! Last year was my first year hosting Thanksgiving dinner. We were living in Florida and it was just my husband, me, and our friend. It was our first holiday as a married couple, and our friends first holiday away from his family. I wanted to make it the best holiday ever. I cooked for 2 days to prep dinner and it was a real success! This year, we are going to my parents house with 20 other people and I am in charge of curating the menu! SCORE! Since my sister and I both have celiac, we are having a 100% gluten free dinner with some vegan options as well! For inspiration, follow along our Thanksgiving menu below!
We're starting the meal off with tons of fresh roasted vegetables with herbs and hearty mashed potatoes! A side of cornbread, a big green salad with roasted squash and pomegranates, sweet and tangy cranberry sauce, and the main event being a roasted turkey! At the moment I am keeping my kombucha apple spice cupcakes at the forefront, and will add a few pies to the menu probably the day of!
These cupcakes are super easy to make, and clean-up is a breeze! The full pieces of apple baked into the middle add a great deal of texture and flavor. A subtle pink lady apple icing tops off the palate and brings the meal full circle!

Double the recipe, drop them off at a local retirement home or homeless shelter and share the joy of home cooking with your local community! That's what Thanksgiving is all about, being thankful for the moments you have and the ability to share those joys with your friends, family and community. Give the gift of joy, cheerfulness and love this Thanksgiving. A smile, and a fresh baked cupcake can go a long way! Cheers to a healthy and happy holiday season.


About Paige:
Not one day has gone by that Paige Billings has not believed that cake can solve most problems. After being told she was allergic to gluten, Paige realized she had to modify her cake recipes. Committed to making her cakes just as delicious as before, Paige has combined her passion for baking, design, and photography into her career as a freelance food photographer, freelance copy and photography editor, and recipe developer. Her delicious and beautiful recipes that can be found on her blog, instagram, and in the secret pages of her ongoing cookbook. Though Paige has lived in many places, from the Bay Area of California, where she grew up, to Montana, where she graduated from Montana State University. She now works out of her Utah home with the help of her eager taste testers, husband, Drew and dog, Moose.
Today's blog is written by our very own Daina Trout, MS, MPH
Catch up on The Digest
Your go-to spot for digestible gut-talk