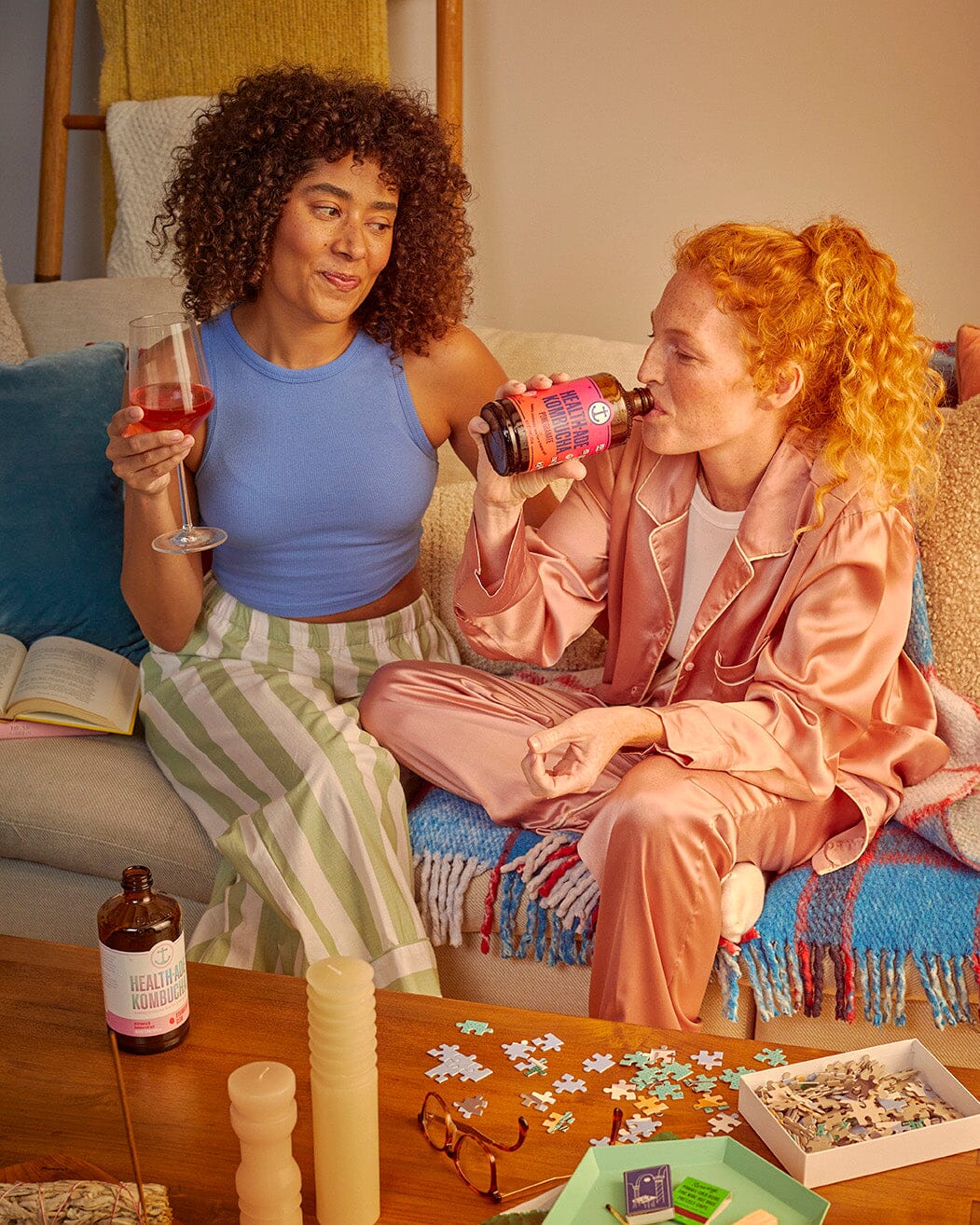 HEALTH AND WELLNESS |
Mental Health + the Microbiome
Copied URL to clipboard!
HELP! We're in a mental health crisis…
I've gotta be honest, I'm slightly afraid that we're so inundated with health messages that we're becoming de-sensitized to how serious some of them are. Many people don't seem to realize that in our post-COVID reality, the state of mental health in our society (especially among younger generations) is pretty pressing and severe.
Let's start with some current facts that may surprise you:
There are many more stats out there - and I think you get it: we are having a mental health crisis in the U.S. and it's serious! As a company in the health and wellness industry - we want to do something to help! This year, Health-Ade is a proud partner of Madhappy, a lifestyle brand who's dedicated to raising awareness and accessibility in the mental health space. Mental health affects us all, and the sooner we view it as a normal part of our everyday lives, the sooner we can get people the support they need!
Additionally, we believe there's opportunity for more education around mental health. To start, let's uncover how our gut is connected to our mental health:
What's the gut got to do with it?
Our gut communicates to our brain multiple times a day via more than 50 pathways in what's called the Gut-Brain-Axis. As science has explored this link a lot in the last decade, we know now that the following are directly linked:
Your gut + your "happiness". Nearly all of the body's serotonin (that's your happy neurochemical) is made in your gut, triggered by microbes.
Your gut + depression and anxiety. People with depression and anxiety have less abundant microbiomes and more "unfriendly" bacteria in their gut. Depression and anxiety have both been linked to low levels of butyrate-producing bacteria in the gut.
Your diet + depression and anxiety. People with diets unsupportive to microbiome health have a significantly increased chance of developing depression and anxiety. Studies show that foods like pizza, fried food, excessive wine, and ice cream actually make us feel worse when we're depressed. A prebiotic rich or a gut healthy diet has been linked repeatedly to decreases in depressive-like behavior. Prebiotics even showed they could improve the impact of anti-depressants and anti-anxiety medications in a study
I'd like to clarify that gut health isn't the ONLY thing a person with depression or anxiety needs to worry about, and that a simple change toward a gut-healthy diet will not cure all mental health issues. Like most conditions, mental illnesses are complicated and multi-faceted. In addition to gut health, stress, hydration, sleep, hormones, and blood sugar are all essential in managing one's mental health. What I AM saying is that - given the gut is so heavily tied to our mood AND we are in the midst of a mental health crisis, our microbiome should be at the forefront of the conversation. We need to stop thinking only about digestion when we think of the gut.
The good news is that mental health is becoming less stigmatized and treatments are less taboo. Introducing what we eat and the gut-brain axis to the field of "therapy" must come next, as it will expand our ability to feel-good.
If you'd like a reminder on how to take care of your gut - here are a few great tips to start with:
Eat fermented foods often
Use antibiotics only when necessary
I hope this post has inspired you to think differently about what constitutes a "happy" meal and explore how gut-friendly changes to your diet might help your mental health.
Today's blog is written by our very own Daina Trout, MS, MPH
Catch up on The Digest
Your go-to spot for digestible gut-talk