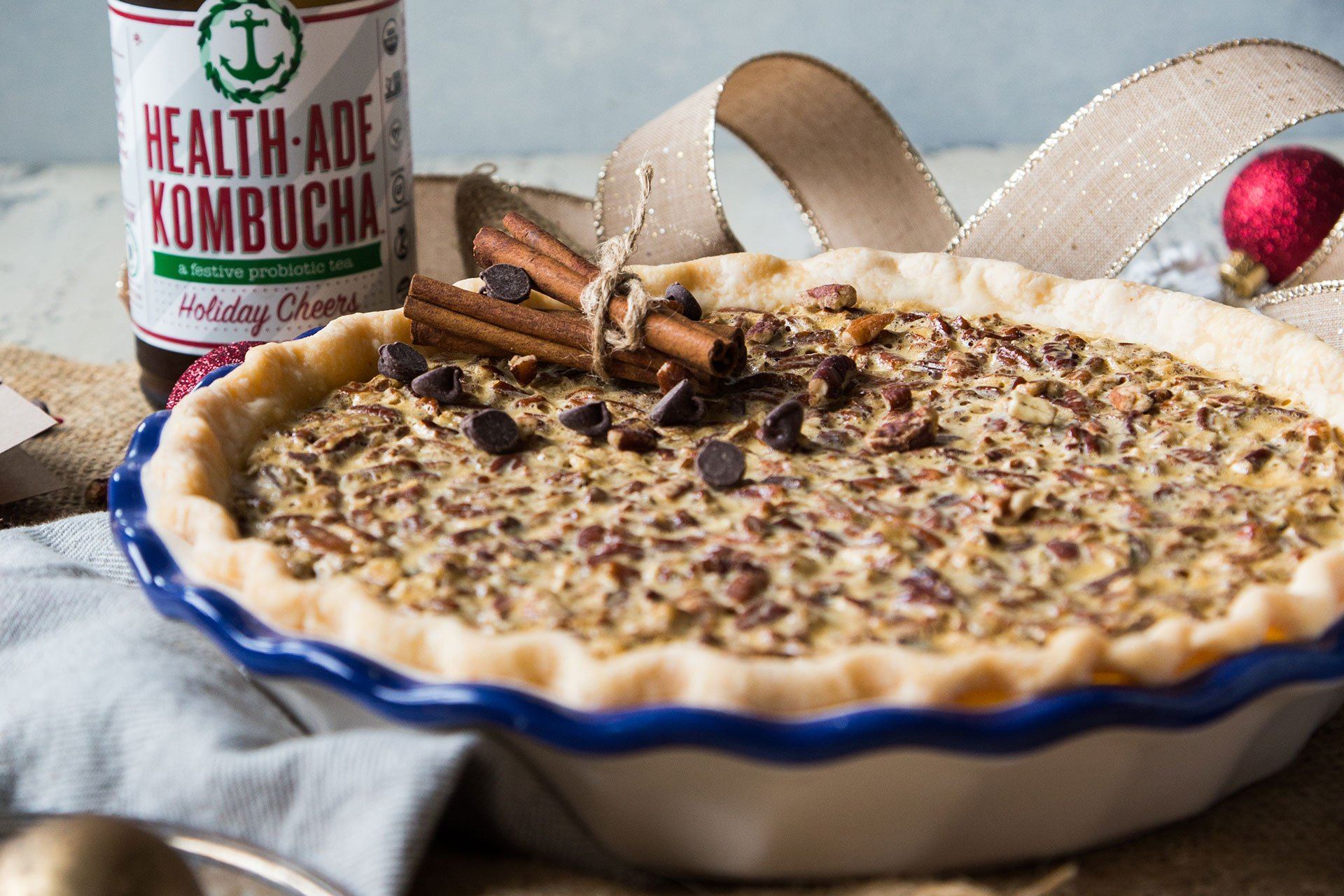 RECIPES |
Holiday Cheers Pecan Pie
Copied URL to clipboard!
Prep Time – 15 Minutes
Bake Time – 55 Minutes – 1 Hour
Cool Time – 2 Hours, or preferably overnight in fridge
Servings – 8-10
Ingredients
1 prepared Pie Crust, rolled out
6 Tbsp Unsalted Butter, cut into cubes
1 cup Dark Brown Sugar
½ tsp Salt
3 Eggs
¾ cup Corn Syrup
1 Tbsp Vanilla Extract
1 Tbsp Pumpkin Pie Spice
2 tsp Fresh Grated Ginger
¼ tsp All Spice
2 cups Pecans, chopped fine
1 cup Dark Chocolate Chips
Instructions
Heat oven to 350, and place rack in lower-middle position.
Roll out pie crust, and place into pie pan. Scallop the edges of the pie crust. Poke several holes into the bottom of the crust, and then line the bottom with aluminum foil. Top the foil with pie weights, or dry beans. Bake the crust while you prepare the other ingredients, about 15-20 minutes.
Bring a large skillet, partially filled with water to a simmer. Using a heatproof bowl, set it in the water, and melt the butter. Whisk in the brown sugar and salt until it melts together. Whisk in the eggs, one at a time. Follow this with whisking in the corn syrup, vanilla, pumpkin pie spice, grated ginger, and all spice. Bring the mixture to a temperature of 130-135 degrees, using an instant read thermometer.
Once the mixture is created and has reached temperature, remove the bowl from the skillet, and stir in the pecan pieces. Set aside momentarily.
Remove the partially baked pie crust from the oven, and lift out the pie weights, and foil. Pour the chocolate chips into the bottom of the pie crust. And gently pour the pecan pie mixture over the top of the chocolate chips. Return the whole pie to the oven and bake for 55 minutes to 1 hour.
Remove the pie from the oven and allow to cool at least 2 hours, or preferably overnight in the fridge. Slice and serve!
Today's blog is written by our very own Daina Trout, MS, MPH
Catch up on The Digest
Your go-to spot for digestible gut-talk