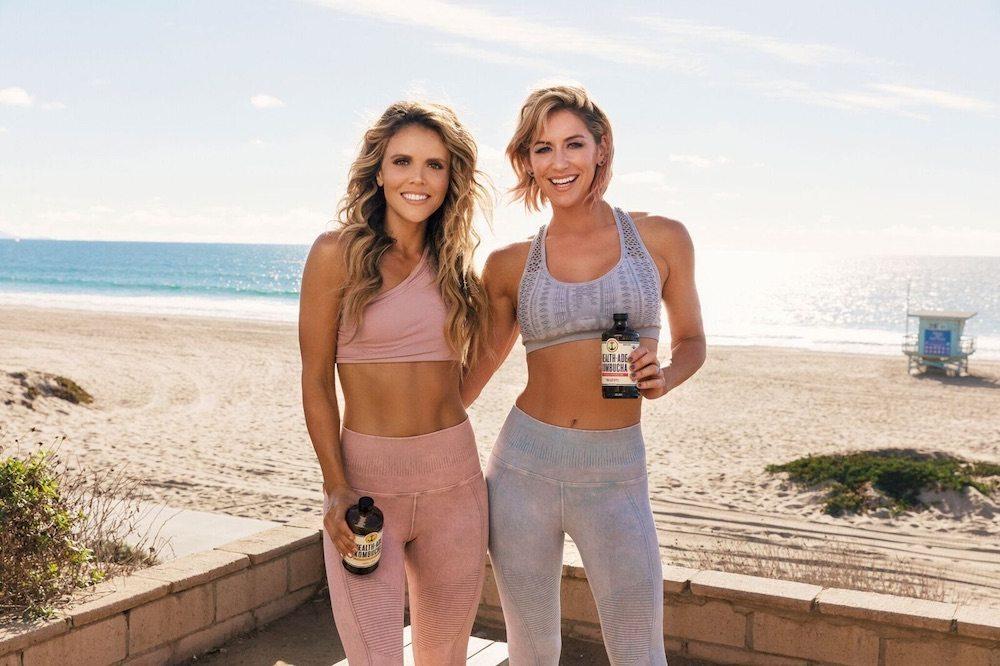 Follow Your Gut: The Tone It Up Co-Founders on the Importance of Community
Copied URL to clipboard!
Meet Karena & Katrina, the powerhouse duo behind our favorite fitness community: Tone It Up!
Since being introduced to this dynamic pair of entrepreneurs, we've felt a strong sense of appreciation and respect. They've not only created a community that promotes everything we as a kombucha company stand for, but they do it by spreading a positive message that we believe is more important than ever in this day and age.
From workouts and fitness tips to nutrition guides and inspiring community meet ups, the TIU team is one that will leave you wanting more! We were so excited to sit down and get the 411 on go-to workouts & what's next for the TIU team.
Read on for the second interview in our FOLLOW YOUR GUT blog series, featuring Karena & Katrina of Tone It Up.
Explain who you are and what you do:
Karena: Hi I'm Karena, one of your trainers and Co-founders of Tone It Up with Katrina. We actually met at the gym on a Friday night and became best friends before deciding to create Tone It Up together!
Katrina: I'm Katrina (Kat for short!). If you're new to Tone It Up, welcome! We're a community of women who support and motivate each other to reach all our goals and dreams. A little bit about what we do: we offer free Daily Toning Moves in our Tone It Up app, and you can also join our 'Studio Tone It Up' within the app to take classes in real-time with other women in the community. We also offer the Tone It Up Nutrition Program, plant-based protein and bars, and a fitness product line in Target stores nationwide! Everything we create is designed to provide women the tools to live their healthiest, happiest, and most confident lives!
Where did your passion and desire to start Tone It Up come from?
Karena: When we met, we both quickly realized we shared a passion for transforming through fitness and living a healthy lifestyle. We decided to create a community where women could connect through fitness and meet their best girlfriends, just like we did! We envisioned a place where women cheered each other and lifted each other up — and that was the beginning of Tone It Up!
How do you stay inspired?
Katrina: The Tone It Up community constantly inspires us. We scroll through the #TIUteam hashtag on Instagram all day and see all the gorgeous checkins. The strong, brilliant women of our community spark so many ideas and motivate us to work hard every single day.
Favorite go-to workout that never lets you down:
Karena: Either a hot yoga class or a total body HIIT routine — depending on what I'm feeling that day!
Katrina: Same!
Best advice you ever received?
Katrina: A mentor once told us that in order to create anything successfully you need to have empathy and enthusiasm. That really resonated with us because every day we connect with our community, try to understand what they're going through, and help them get through it to be the best version of themselves.
Describe the "happiest and healthiest" version of yourself.
Karena: The "happiest and healthiest" version of me is when I'm caring for my mind, body, and soul. I'm taking time for myself — for my workouts, to nourish my body with healthy foods, to meditate and set my intentions — so that I can be there for my family, friends, and for the beautiful Tone It Up Community.
Katrina: Very similar to Karena, I'm at my happiest and healthiest when I've done my workout, had a delicious, and nutrient-packed meal, spent time with my husband and friends, and checked in with the TIU community. Those things always bring a smile to my face!
What's next on the horizon for Tone It Up?!
Karena: We're constantly evolving and creating and now is such an exciting time at Tone It Up! We have new content and features launching within the Studio Tone It Up app, including new trainers and LIVE workouts! We also recently hit shelves at every Target nationwide with our fitness equipment and nutrition lines, making it even easier to live the Tone It Up lifestyle.
What does "Follow Your Gut" mean to you?
Katrina: It means listening to your intuition and using it to inspire others. I feel really connected to women and their needs, so I try to make every decision for our community based on the way I feel for them.
Karena: It means finding your passion and purpose in life — what sets your soul on fire  —  and going for it no matter what obstacles get in your way.
LIKE WHAT YOU SEE?
Changing Your Life, One Step at a Time 
Today's blog is written by our very own Daina Trout, MS, MPH
Catch up on The Digest
Your go-to spot for digestible gut-talk