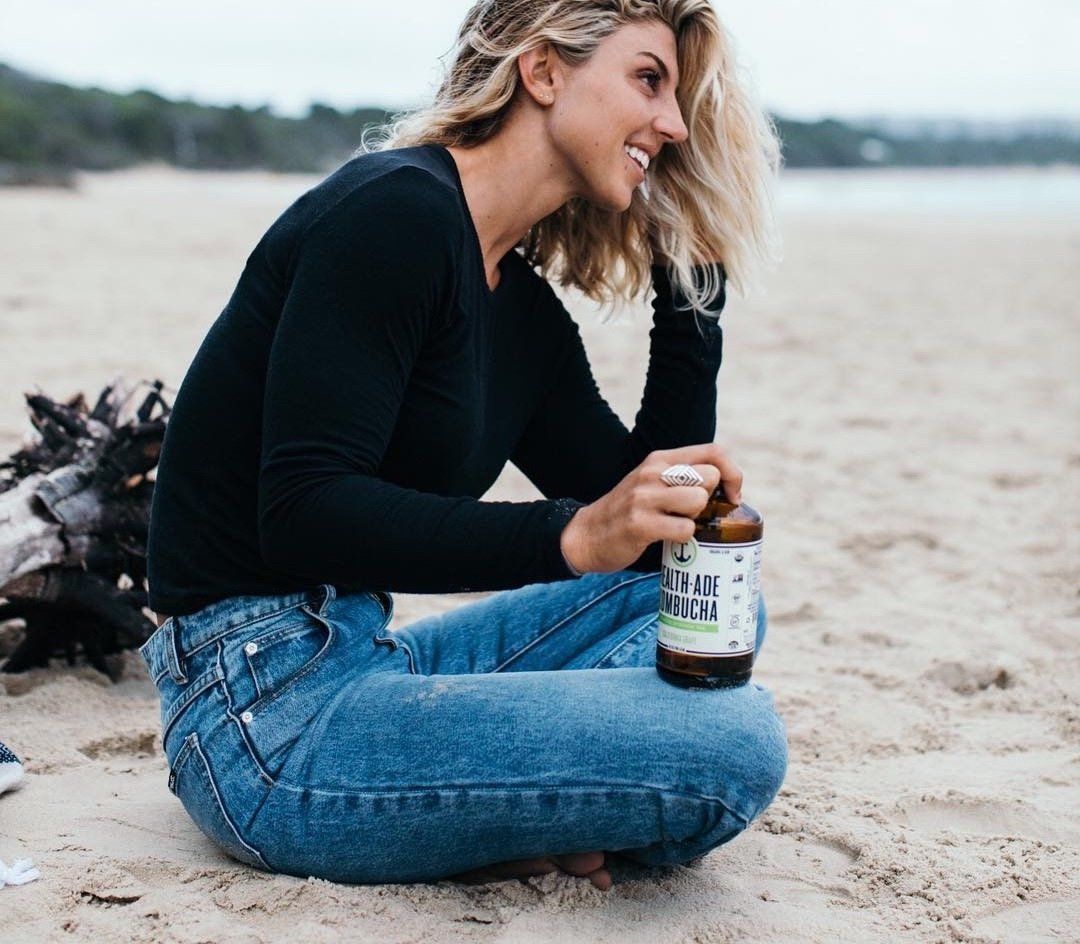 OTHER |
FOLLOW YOUR GUT: A Day in the Life of Pro-Surfer Sage Erickson
Copied URL to clipboard!
Meet Sage Erickson, American professional surfer and all around bad*ss. With roots in Southern California, Sage was captivated by the ocean at a young age, but didn't begin surfing until age 10. Having traveled all over the world for various competitions, Sage remains grounded and inspiring… something that we find integral to staying happy & healthy.
Explain who you are and what you do!
Well hi, I'm Sage. I'm a professional surfer competing on the World Surf League Championship Tour. I have a huge passion for following my dreams and enjoying all the crazy cool places I get to see while doing it. I spend about 10 months on the road traveling internationally, and on my down time enjoy painting on my surfboards, working out, shooting cool photos with my friends, gardening, and recently I've taken up ceramics. 
How did you first discover surfing? Did you always know this is what you'd be doing with your life?
Originally I grew up around the ocean, but never surfed until the age of 10. My dad and older brother have always surfed and being from a small inland town called Ojai in California, it took me longer to get the confidence to try it myself. It wasn't until my family sold the coffee shop i grew up in and moved to the North Shore of Oahu where there wasn't to many options besides being captivated by the ocean and all of its ways!
What does a typical day look like for you?
I wake up fairly early; 6:30am most days. Or if I'm Bali and jet-lagged like I am now, 3:30am. Ha! I've never regretted seeing a sunrise and appreciate the calmness that the world feels at this time. I make coffee, watch the news, and water my yard. I always head out to check the surf before 10am. As a surfer you'll soon figure out that more often than not the wind is best in the early hours of the day. I normally don't eat breakfast and have a big lunch. Something healthy; smoothies, salads. I love going for mild hikes and fitting a workout in at the gym. The affect that physical movement has on your mental state is crucial! I don't put too much pressure on myself the rest of the day after all of this.
Best pre- and post-surf snack?
Pre: I'm not big on breakfast so I have a coffee early, or if the waves are really good and I need some extra energy I make a Tone It Up smoothie and fill it with peanut butter. Post: Salads and a Health-Ade Kombucha with lean proteins! I love olive oil so it's pretty much drenched.
Who or what inspires you?
Honestly I think my peers and close friends truly inspire me. I'm such a believer in who you surround yourself with you'll evolve like, etc. There's something so inspiring about like minded individuals and I feel that everyone's goals seem more attainable and tangible together.
Describe the "happiest and healthiest" version of yourself.
Waking up early, moving my body, eating healthy, winning contests, and watching the sunset with my friends! All while constantly traveling and seeing the world's creations.
Best advice you ever received?
Fall down 7, getup 8. 
One thing on your bucket list?
Compete in the 2020 Olympics!
What's up next for you? Any exciting projects or trips we can look out for?
I have my mind set on finishing the year in the top 5 on the Women's World Championship Tour. So, I guess that's the overall goal. And as for more immediate projects and trips, my career takes me on trips all the time, which I love and never take for granted. My projects are documenting and sharing about every place I travel to and the people I get to meet along the way.
What does "Follow Your Gut" mean to you?
Follow your gut to me means, do what makes you the best version of yourself! Also take the steps to give your body, mind and soul the best opportunity and living your best life and remember the small steps make the biggest differences.
VISIT SHOP
Today's blog is written by our very own Daina Trout, MS, MPH
Catch up on The Digest
Your go-to spot for digestible gut-talk