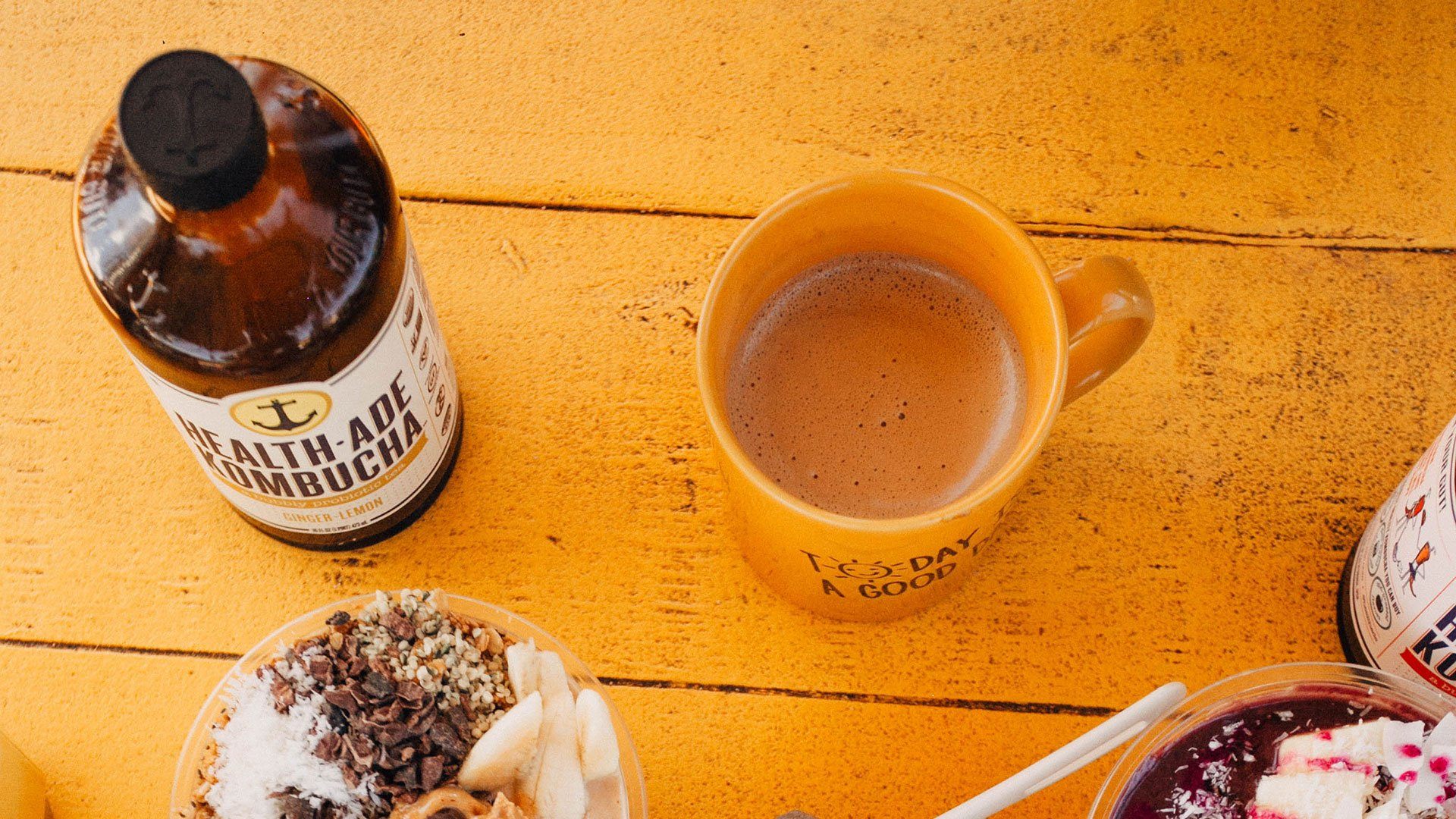 Follow Your Gut: Health-Ade Kombucha talks to the Sunrise Shack Founders
Copied URL to clipboard!
Health-Ade Kombucha caught up with Koa and Alex Smith, the founders of Sunrise Shack, to learn more about their business, life mission and how they follow their gut.
Explain who you are and what you do!
Koa:  I'm Koa Smith! I'm a Professional surfer on a mission to become a superhuman! 
Alex: My name is Alex Smith, I'm a professional surfer and health enthusiast. I grew up on Kauai and recently made the move to Oahu to run my coffee shop Sunrise Shack. I started surfing at age 6, then went on to compete professionally. I've traveled the world competing and exploring waves around the world.  I'm currently working on a YouTube channel with my brothers.
How and when did you first discover surfing?
Koa: I started skateboarding soon after I could walk then as soon as my older brother Alex started surfing I was like, if he can do it I can do it! I don't have much memory, but I believe I was around 3 years old!
Alex: While I was 4 years old on Kauai I found a surfboard on the beach and paddled out to join some other surfers. I think it was just a natural impulse that changed my life forever!
How did you get here? Did you always know this was your life's mission?
Koa: I always knew I would be a professional surfer, I think I was about 4 or 5 when I made that call. That's all I wanted to do - every single day. I was home schooled as a kid and my parents designed this epic program where my brothers and I didn't have to start school until 10am. So we would wake up every morning and go surf! After we got out of school around 3 we would head right back to the beach and surf again! We loved it so much and it made us so happy our parents just wanted us in the water as much as possible! 
Alex: I don't think I have singular mission in life (that I know of yet), but I think it's doing my best to evolve and make the world a better place around me. I want to help create things that make the world healthier, efficient and natural.
Tell us about the Sunrise Shack- where did the idea to start a coffee shop come from?
Koa: The idea of the sunrise shack came from discovering bullet coffee. I heard whispers from a friend that Laired Hamilton was making this special super coffee with healthy fats! It was way more powerful than normal coffee, filled you up so you didn't need breakfast, and was really good for you. In my head I was thinking No breakfast? More energy? I could surf all day??? ha! So, a couple googles later we found a rough recipe and we started making it! We were so hooked. After about 4 years of traveling around the world and making it, we were tripping out on how good it was… it's just a better version of coffee. At the time our middle brother Travis was living in New York modeling and he started doing some pop-up shops selling bullet coffees at markets. People were responding very well to it! The goal was to start a little food truck on the North Shore of Oahu near Pipeline so we could sell the Bullet coffee to surfers. We reached out to one of our best friends and North Shore native Koa Rothman to help us find a location. He ended up sending us a picture of a beat-up old fruit stand. At first, we were skeptical, but we couldn't find another location, so we said LET'S DO THIS! 
The name Sunrise Shack came from being across the street from the legendary surf break Sunset Beach. We sell coffee, we are across the street from Sunset let's call it Sunrise Shack Travis said! It was one of those moments where you felt some instant magic and realized this was about to be something really cool! 
At first, we just sold 3 coffee options on the menu. We brought our oldest brother Alex into the picture and he helped change the game, expanding our menu adding colorful smoothie bowls and papaya bowls and healthy food options.
Two years later and we now have two locations on Oahu, the Og shack on the North Shore and its sister in the OutRigger hotel in Waikiki. We also now have 4 shacks in Japan! It's been such an amazing experience, we just want to spread health awareness and happiness and positivity to the world!  
Alex: My bros and I have always wanted our own health food spot because we wanted to share the healthy food and drinks that help us feel good. We also wanted to create a spot we could eat at, that was organic and aligned with our healthy diets. As winter approached the North Shore 2 years ago, our buddy Koa Rothman helped us find a sick fruit stand right next to Sunset Beach. We got together with a bunch of friends, painted it yellow and started slinging Organic Bullet Coffees. We added the papaya bowl, then last year we introduced 5 colorful smoothie bowl flavors. It's been an incredible journey we couldn't have predicted happening this early in life.
Biggest challenge in running a business?
Koa: The biggest challenge was learning how to work together as brothers, and as a family. Respecting each other's ideas and working together to make our little Sunrise Shack dream come true! It's been crazy but so much fun! Now days Travis and Alex work so hard on it bringing these ideas and dreams to life! I am more of an ambassador of the brand, helping with creative ideas and wild card designs. :)
Alex: Staying focused and consistent, especially on the small tasks that come up every day. I catch myself dreaming of the bigger, more creative ideas and sometimes forget the importance of the small things.
What does a typical day look like for you?
Koa: I am on a constant mission to become a better, stronger person! Lately I've been very into yoga and training. If I'm at home on Oahu, I start every morning with a lot of good quality water maybe two glasses, lately I've been doing a 30-minute yoga practice, I go on YouTube and type in whatever I'm feeling… for example 30 min yoga for hips. then follow it :) so fun and easy, no matter how tired or groggy I'm feeling when I wake up it always re sets me and makes me feel my best. I then go for a beach run or a quick surf (something to get my heart pumping and awake) Then I'll jump in my ice bath. Clear the mind and REALLY wake up the body for the best day ever! From there I'll hit the Sunrise Shack and get a classic bullet add some almond butter, mushrooms, and turmeric. Then catch up on some work and ride that energy where ever it takes me!  Sometimes it's a training session, sometimes a surf session. I'll have lunch around 12 or 1p usually some sort of high-quality salad with roasted veggies and a healthy protein, fresh ahi or organic chicken. I love to hang with my Brothers and brain storm, we work on a lot of projects together so its nice to move everything forward. I also LOVE my friends and the crazy missions we go on! I always watch the sunset and reflect on my life, where I've been, where I'm going and how trippy and magical life is! By night time I'm ready for a nice replenishing SLEEP! I usually am in bed around 9 or 930 so I'm ready to have an even better day tomorrow. 
Alex: Every day is wildly different, but It's usually spent working out, working on ideas at home, hanging out at Sunrise Shack, surfing, and planning future trips and ideas. I usually have a Health-Ade kombucha in the evening as the sun goes down.
Who or what inspires you?
Koa:  I'm inspired by open minded people who don't give a **** about what other humans think of them. People that blaze their own trail through life. Super humans inspire me! People like Laird Hamilton, Wim Hof, contently pushing their limits. Kevin Hart, The Rock. Showing us how much we can actually be doing in this life!
I guess I'm just inspired by Humans! I LOVE listening to podcasts like Joe Rogan, hearing people's stories on how they succeeded and overcame obstacles in front of them. I'm constantly inspired by my brothers and friends, watching them push their own limits and overcoming the hardest times!
Alex: Anyone who's pushing human limits and living a life of creativity. Lately I've been listening to a ton of Joe Rogan and getting inspired by him. I also look to people like Elon Musk, Tim Ferris, and Sam Harris.
Describe the "happiest and healthiest" version of yourself. 
Koa: Happiest and Healthiest Koa Is on his dream program. Yoga, training hard, Ice bath and sauna, bringing my creative ideas to life weather its making a short film, creating and acting a skit, designing products or doing art. Eating the freshest purest home cooked meals like home grown veggies from Kauai, wild Alaskan salmon or a caribou that I stalked and hunted myself. Surfing perfect consistent waves with my best friends and brothers. and sounded by the people I love most my Family, My Girl, and my best friends watching a sunset next to a camp fire sipping on an ice cold Kombucha! 
Alex: Living in the flow, feeling healthy, happy, fully creative and strong!
What are you most proud of on your journey thus far?

Koa:  I've been through so much good and bad that has bent and shaped me into who I am today. 
It's crazy how everything that happens just makes you a stronger, smarter person. My most proud moment so far would have to be rocking up to Skeleton Bay for the first time, the world's longest barreling wave. That was a child hood dream come true! 
Alex:
I'm proud of overcoming challenges that I've faced… thing's I thought I could never do. Traveling around the world by myself, climbing a snowy mountain in Poland in just shorts with Wim Hof's crew, starting Sunrise Shack, and having the discipline to live a healthy lifestyle. I think anything is possible with the right hard work.
Best advice you ever received?

Koa: My parents always instilled in me that I could do or be anything I want in this life. I think that magic limitless belief has brought me far in this life.
Alex: My friend recently told me to Trust the process… Just let go and be okay with life's wild process. She says it will carry me to my goals, which is a nice thought.
One thing on your bucket list?

Koa: Have the Ultimate 4x4 van to live out of, so I can go search for new waves or disappear and unplug in the forest. 
Alex: Swim with anacondas in Brazil, as seen in this Netflix episode! I've always been scared, but curious about snakes and I think this would be the best way to face my fear. haha
Favorite Health-Ade flavor?
Koa: Oh man! Every time I go into a store I end up staring at all the flavors for 5 minutes trying to decide, haha! But if it came down to it I would have to say Cherry-Berry… OR Pink Lady Apple!
Alex: I always go between Ginger-Lemon, Power Greens and Cayenne Cleanse.
What's up next for you guys? Any exciting projects or trips we can look out for?

Koa:  Yes!! My brothers and I are working on a YouTube series "Brother Nature" under our YouTube channel Smith Brothers Hawaii. Where we show the world how we live and hopefully shine light on living a healthier happy lifestyle! Plus, little things you can do to help this planet.
Alex:
We're working on our Brother Nature YouTube series, moving Sunrise Shack forward, and having a super fun Summer full of waves and adventures. You can follow our next move here on YouTube.
What does "Follow Your Gut" mean to you?
Koa: To me Follow your Gut means follow that voice inside that is truly you, that thing you want to say or do that feels right. The more you follow it, the louder that voice gets and the happier and fuller your life gets! 
But the healthier your gut gets at the clearer that voice gets ;) 
Alex: I love this saying! It says it all for me.
First it points to how important gut health is. The gut is as complex as the brain and deserves all the love it can get! Kombucha is how I keep my gut in check.
The second point, is that I feel intuition comes from the gut, and when your healthy the intuitions volume and clarity turn up.
Like What You See?
The Tone It Up Co-Founders on the Importance of Community
Today's blog is written by our very own Daina Trout, MS, MPH
Catch up on The Digest
Your go-to spot for digestible gut-talk