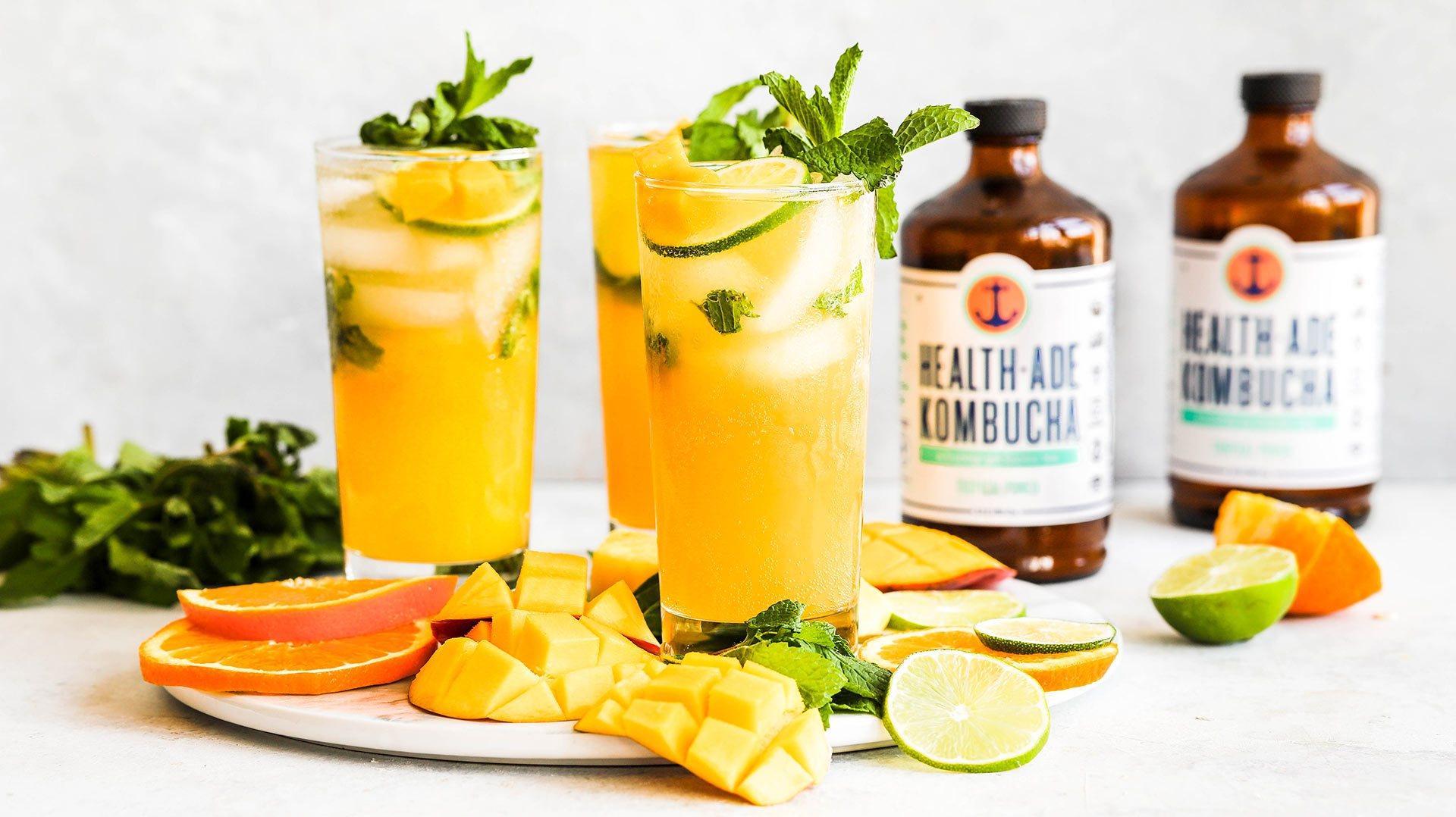 RECIPES |
Cool Down with this Easy Tropical Punch Recipe
Copied URL to clipboard!
Summer in NYC is undeniably beautiful, but you need this tropical punch recipe to help you stay nice and cool! I know, I used to complain about the cold and now that it's hot, I still do. Go ahead, roll your eyes, but I bet you're just like me.
One of the things I've really enjoyed thus far this season is sipping a fizzy cocktail that is super fruity. In the spirit of "clean" drinking, I used Health-Ade's newest, MOST DELICIOUS flavor – the Tropical Punch. HOLY YES! They knocked it completely out of the park with this one guys. It has cold pressed mango and pineapple juice, which you can really taste. This may even take the spot of my first love, the Pink Lady Apple. THAT is how good it is. It's the perfect drink for summer whether you add alcohol in it or not.
Meanwhile, we wanted to make a fun cocktail to launch this amazing flavor. It's a Tropical Punch Mojito. I'm not sure if you're ready for the flavor explosion but brace yourself! It has all the awesome tastes you love from a mojito like the mint and rum. Now, it's even more flavorful with the lightened up factor and zing of the Tropical Punch kombucha.
We don't have a ton of pool action over here in the city though. If I was back home, I would definitely be enjoying these every weekend by the pool. In the meantime, I'll just hang out on a chair staring at the Hudson – it's not so bad.
When I go out to a bar or restaurant, I always look for food or drinks that are "different". Those that the chef or mixologist really put thought into. I think it's important to recognize other people's creativity. As consumers, we can do that by taking chances on out of the box recipes, drinks, meals, etc. If there is kombucha on every cocktail (if I'm in that kinda mood), I go for it. First, because I know I'll like it. Second, because it makes me feel a little bit better about my choice of drinking alcohol in the first place. It's all a balancing act, right?
I wish I could put this mojito on a menu somewhere so more people could have a taste. It might be one of the best kombucha recipes I've ever made. You can also add pineapple or lime, which I highly recommend. It just takes it further to the next level and really brings out the flavors in the kombucha! Personally, I only drink rum if it's in mojito format or if I'm on vacation, so this kind of captures both for me. It makes me feel like I'm on vacation because of the tropical fruits but it's also a mojito, ya know? In NYC, I can't be at the beach like I would in FL. Hence, I'm totally having this all summer long to give me that vibe!
Check out the recipe and try it as soon as you can!
Makes 4 Servings
Ingredients:
6oz Light Rum
6Tbs Fresh Lime Juice
1/4 Cup Mango Nectar
½ Cup Health-Ade Tropical Punch
Handful Fresh Mint
Lime Slices for Garnish
Instructions
Add all ingredients up to the mango nectar into a shaker full of ice. Shake well and serve over ice. Top each glass off with Health-Ade Tropical Punch Kombucha. Garnish with a slice of lime and mint sprig. Enjoy!
Let's Raise a Toast to a Wonderful Summer
I would love to know what your favorite summer drink is - alcoholic or not. I love seeing what flavor profiles people go to when they're out and about or hanging with friends at home. I always go for fruity and citrus-ey. Kevin always goes for the heavy, dark drinks (such a dude). Nonetheless, I'm always open to trying new things because I have a pretty broad palette. Enough about me – tell me what your favorite drinks are in the comments below!
Health-Ade's newest Tropical Punch flavor is available in Sprouts stores. If you see one, grab it! You will not regret it.
Today's blog is written by our very own Daina Trout, MS, MPH
Catch up on The Digest
Your go-to spot for digestible gut-talk