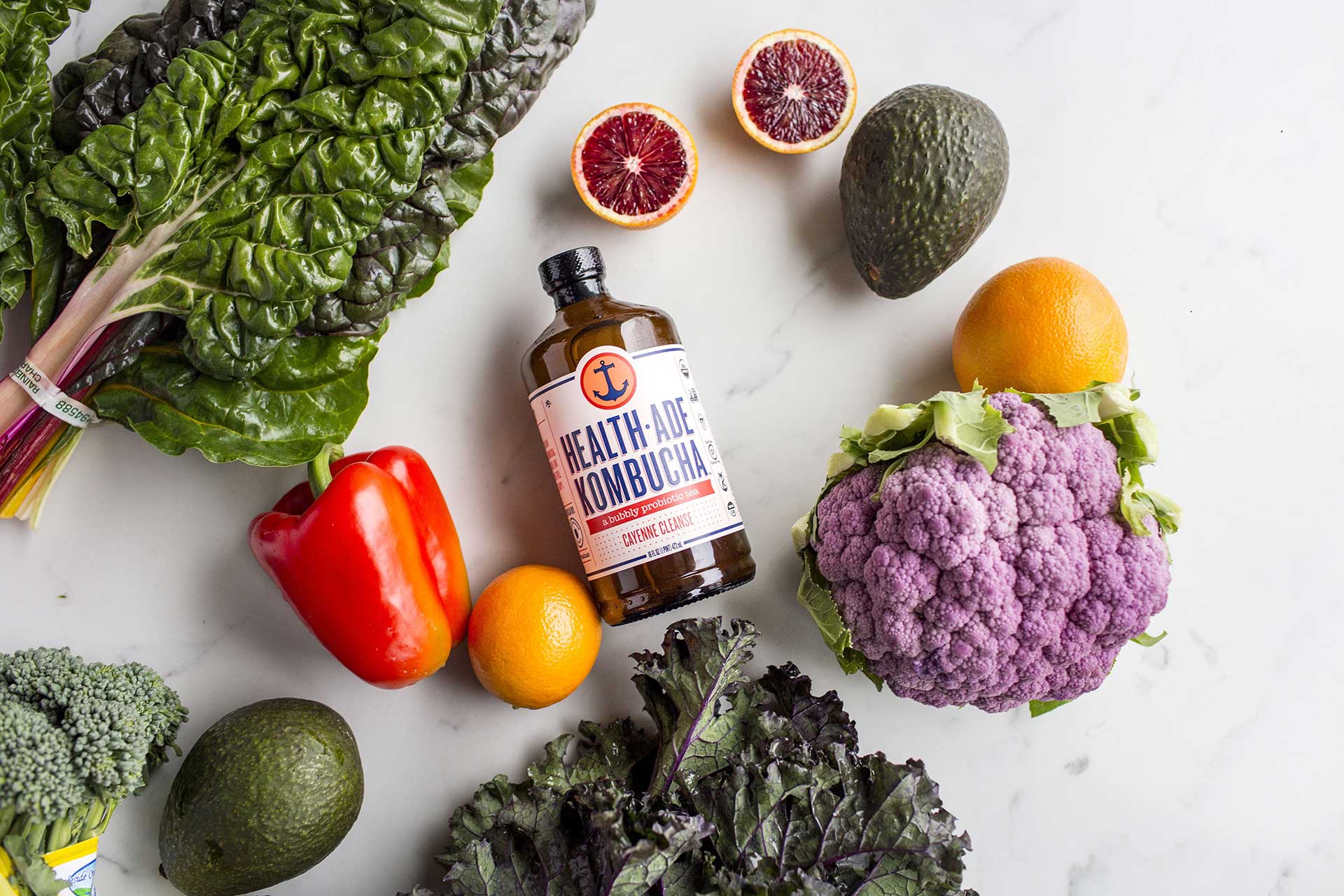 KOMBUCHA 101 |
Balanced Eating in the New Year
Copied URL to clipboard!
Hello 2019 and a brand new year. This time of the year brings about a whole slew of fad diets, resolutions to eat less dessert and French fries and more salads, and 30-day challenges to eat only paleo, vegan, or gluten-free taking over social media. Of course, intentions with food and lifestyle shifts are important, but they don't need to be so dramatic - or restrictive and rigid. 
Having a more balanced and intuitive approach to eating and nourishment is easier than you think. My philosophy is all about adding things in - not taking things out. Instead of removing all the chocolate from your diet (which you should never, ever do because it's good for the soul!), start incorporating more into your diet - more whole foods in the form of vegetables, healthy fats, fruit, high-quality animal proteins, whole grains, and nuts and seeds. 
Here are a few of my favorite additions to a balanced diet and plate in the new year.
Add more veggies!
Put vegetables in absolutely all of your recipes - seriously. Making scrambled eggs for breakfast? Add sautéed spinach or a side of sautéed mushrooms and sweet potato. Preparing pasta sauce for your family? Throw in zucchini, fennel, squash, and more. Stuff sweet potatoes with chickpeas, tahini, and quinoa for an easy supper, or cube up butternut squash for chili! The options are truly endless when it comes to adding in delicious, fiber-rich, and nutrient-packed vegetables. A good goal? Aim to have a serving of vegetables at every meal! 
Add more good-for-you fats!
Healthy fats, from avocado, nuts, seeds, nut butter, olive oil, ghee, grass-fed meat, wild fish, and eggs are vital for hormone health and energy levels. They keep you feeling full longer and prevent any mid-day hangry feelings, too.
Add more fermented foods to your meals!
Fermented foods, like sauerkraut, kimchi, organic raw kombucha, and kefir, are delicious sources of probiotics that help to maintain the health and wellbeing of the bacteria within your gut. Scientists and researchers aren't calling the gut the "second brain" for nothing - the gut is crucial to producing serotonin and support brain health. I like sipping on Health Ade kombucha for an extra boost of probiotic powers with big bowls of greens, grains, and sauerkraut - yum! 
Add spices!
Adding in a little spice to your meals not only make them more flavorful and exciting, it's a fun way to change up the usual. Sick of sweet potato fries? Sprinkle them with cayenne pepper and cumin for an extra punch. I also love adding fresh herbs and spices to homemade salad dressings and hummus, too!
So resolve to eat more this year; in the form of whole, simple, and nourishing foods. Happy 2019! Be sure to spice things up with our Ginger-Infused Kombucha flavor, which is the perfect addition to kickstart this New Year.
Today's blog is written by our very own Daina Trout, MS, MPH
Catch up on The Digest
Your go-to spot for digestible gut-talk