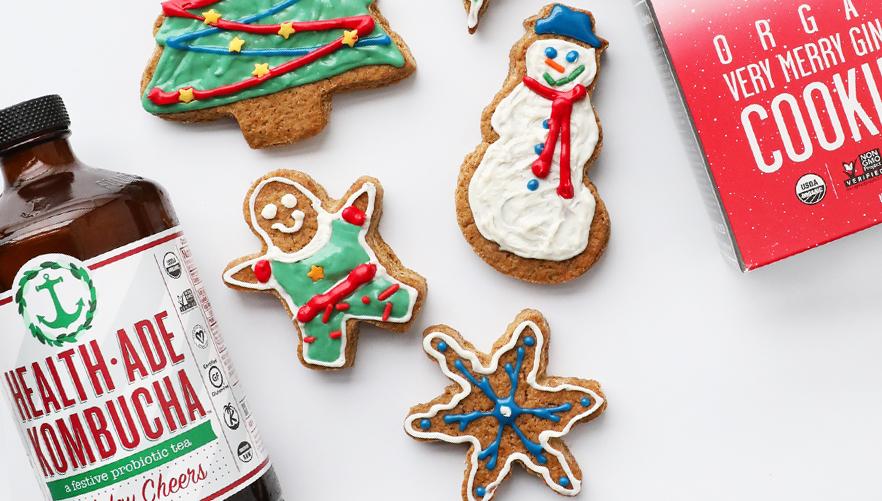 OTHER |
Bake These Organic Very Merry Holiday Cheers Gingerbread Kombucha Cookies
Copied URL to clipboard!
Prep: 15 Minutes
Bake: 10 Minutes
Yields: 20 Servings
Ingredients:
Cookies:
3 Cups Foodstirs Organic Very Merry Gingerbread Cookie Mix
1/2 Cup Butter (cold, cubed)
3 Tbsp Health Ade Holiday Cheers Kombucha
Extras: 
1 Cup Biodynamic Organic Powdered Sugar
1 Tbsp Water
1 Packet ColorKitchen Natural Orange Dye + 1 Packet ColorKitchen Natural Pink Dye
2 Packets ColorKitchen Natural Green Dye
1 Packet Color Kitchen Natural Blue Dye
1 Packet ColorKitchen Natural Yellow Dye
2 Tbsp Organic Holiday Sprinkles
Directions:
For Cookies:
1. Preheat oven to 350*F. In a mixer, begin whisking the Butter until thick, fluffy texture forms. Slowly add in the Health Ade Holiday Cheers Kombucha and whisk until loosely combined (texture should look similar to cottage cheese).
2. Slowly begin adding in the Foodstirs Organic Very Merry Gingerbread Cookie Mix, 1 Cup at a time. Whisk until dough forms and pulls away from the sides of the bowl. Remove the dough from the mixer and gently knead into a round disc. Plastic wrap the dough and pop in the freezer for about 20 minutes. 
3. After 20 minutes in the freezer, remove the dough from the freezer and place onto a well-floured surface. Pro Tip: Make sure to flour your rolling pin so the dough doesn't stick!
4. Pat all sides of the dough with flour and begin rolling out to about 1/4" thickness. Take your Holiday cookie cutters and gently press into the dough. Lay the cut out Holiday cookies onto a parchment-lined cookie sheet and bake for 10-13 minutes. Allow to cool before decorating.
5. In a medium bowl, combine the Powdered Sugar and water. Next separate the Frosting into 6 bowls. Add the according Natural Dye Packets into the bowls, leaving one bowl with white Frosting. Put the frostings into different piping bags and begin decorating your cookies. Repeat for all the cookies. Enjoy! 
Today's blog is written by our very own Daina Trout, MS, MPH
Catch up on The Digest
Your go-to spot for digestible gut-talk