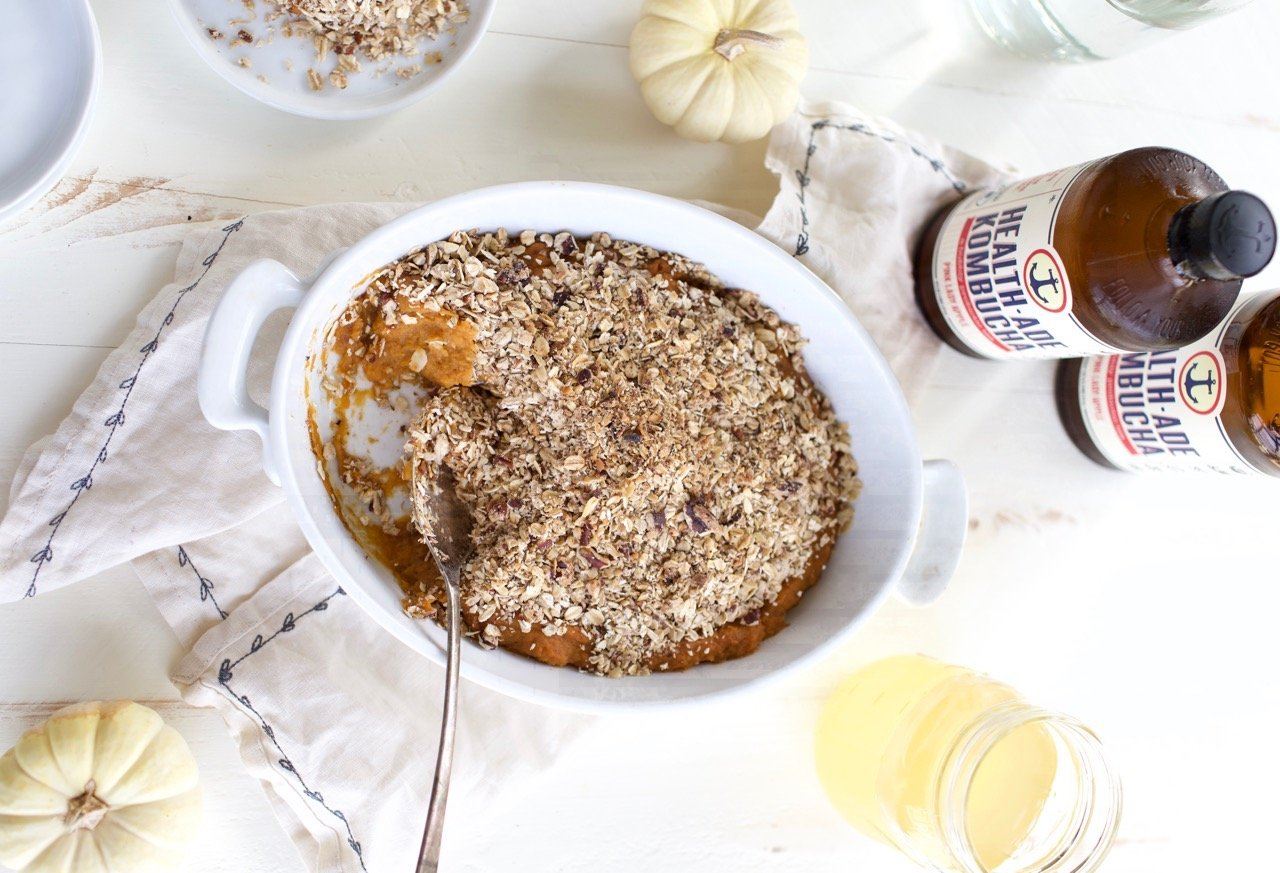 OTHER |
A Thanksgiving Pairing: Pecan + Oatmeal Sweet Potato Casserole
Copied URL to clipboard!
Thanksgiving is my favorite holiday of the year. I love gathering friends and family around the table and coming together to be grateful, eat nourishing foods, and enjoy seasonal & traditional recipes. One of my favorite recipes to bring to the Thanksgiving table is this super simple, and super nourishing gluten-free and vegan Pecan and Oatmeal Sweet Potato Casserole.
Made with just a few ingredients, many of which are likely already in your pantry, this casserole makes a slightly sweet and nutrient-packed addition to your Thanksgiving meal. Sweet potatoes are a delicious source of vital antioxidants and nutrients, including vitamins A and C, beta carotene, and fiber. Eating them with a bit of healthy fats (like the coconut oil in this recipe) helps to make their nutrients even more bioavailable. Warming spices like cinnamon, nutmeg, and ginger provide natural sweetness and make the casserole taste amazing, too. 
The sweet potato casserole is sprinkled with a super easy pecan and oat crumble topping, packed with good fats and fiber. Oats and pecans are pulsed together alongside of coconut oil and spices to create a crumbly texture. I love making extra of this crumble topping to use on other recipes throughout the week too! You can store extra crumble in a glass jar in the refrigerator and sprinkle it on oatmeal, smoothies, yogurt, and even ice cream or leftover pumpkin pie!
This Pecan and Oatmeal Sweet Potato Casserole pairs perfectly with your Thanksgiving feast, and a sip of Health Ade's Pink Lady Apple Kombucha. Happy Thanksgiving, friends!


PECAN AND OATMEAL SWEET POTATO CASSEROLE 
Serves 4-6
Ingredients
3 large sweet potatoes, peeled and roughly chopped
1 tsp cinnamon
1/2 tsp nutmeg
1/2 tsp ginger
1/2 tsp sea salt
1/4 cup coconut milk
3 Tbsp maple syrup (optional)
1 cup rolled oats
1 1/2 cups pecans
4 Tbsp coconut oil
Directions
Preheat oven to 350 degrees F and grease a baking dish with coconut oil. 
Prepare the sweet potatoes: peel and roughly chop sweet potatoes. Add to a pot and cover with water. Bring to a boil, reduce heat to low, and simmer for 10-15 minutes, or until sweet potatoes are fork tender. 
While sweet potatoes cook, prepare crumble topping. Add crumble ingredients to a food processor and pulse five or six times to roughly combine ingredients. The mixture should be coarse - don't over process! 
Drain cooked sweet potatoes and add to a high-speed blender or clean food processor. Add in spices, coconut milk, and optional maple syrup. Blend until sweet potatoes are thick and creamy. 
Spoon sweet potato puree into baking dish. Sprinkle crumble evenly on top.
Bake sweet potatoes for 20-25 minutes, or until topping is golden and brown.
Remove from oven and enjoy! 
Today's blog is written by our very own Daina Trout, MS, MPH
Catch up on The Digest
Your go-to spot for digestible gut-talk