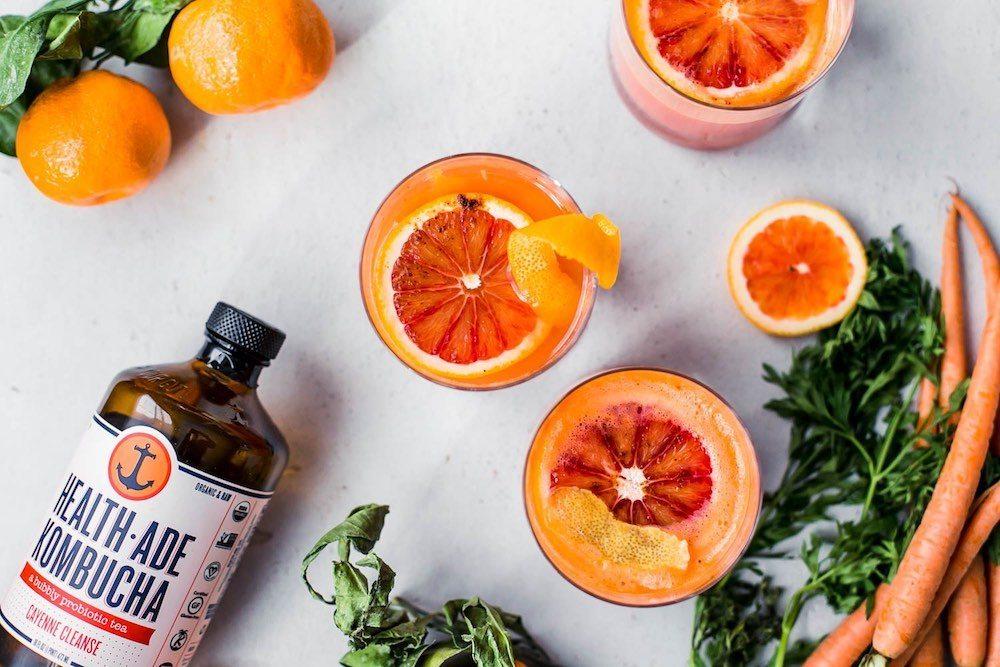 RECIPES |
A Kombucha Mocktail to Kick Off the New Year Right
Copied URL to clipboard!
Say hello to the Blood Orange Cayenne Cleanser! This spicy mocktail is the perfect way to kick off the new year (for a happier mind & a healthier gut!).
With the new year comes new resolutions. Whether you're trying to cut down on sugar and/or alcohol, be more mindful, exercise more, or just give your body & mind a break after the holidays… we hear you!
It's important to use the new year as a time of reflection. Figure out what's working for your body and what isn't. From there, implement change in order to better serve yourself. For many, "dry" January is a go-to following the holiday months. We understand the desire to cut back on alcohol which is why we wanted to share this kombucha mocktail recipe which features our Cayenne Cleanse flavor.
Combine the tart taste of blood oranges and lemons with the spice of cayenne and the natural effervescence from kombucha for a delicious combination that's perfect to sip any time of day!
BLOOD ORANGE CAYENNE CLEANSER
Original recipe by Ashley Cuoco
Servings: 4
Ingredients:
1 bottle (1 pint) Health-Ade Cayenne Cleanse Kombucha
Juice from 4 blood oranges, plus 1 sliced blood orange for garnish
1 cup carrots, peeled and chopped
Juice from 1/2 lemon plus zest for garnish
1 cup ice cubes
Cayenne pepper, for sprinkling
Directions:
Combine Cayenne Cleanse, orange juice, carrots, lemon juice and ice into a high-powered blender. Blend on low, slowly increasing to high speed. Blend on high for 1 minute or until smooth consistency is reached.
Strain drink through a fine mesh sieve once or twice. Divide drink equally between 4 cocktail glasses. Serve on ice if desired.
Use a vegetable peeler to peel 4 long ribbons of lemon zest. Place 1 ribbon into each glass.
Slice remaining blood range in wheels and place one face up in each glass.
Sprinkle a pinch of cayenne pepper into each glass. Enjoy cold. Refrigerate up to 2 days.
LIKE WHAT YOU SEE?
What is Kombucha? Health-Ade's Blog Posts
Today's blog is written by our very own Daina Trout, MS, MPH
Catch up on The Digest
Your go-to spot for digestible gut-talk