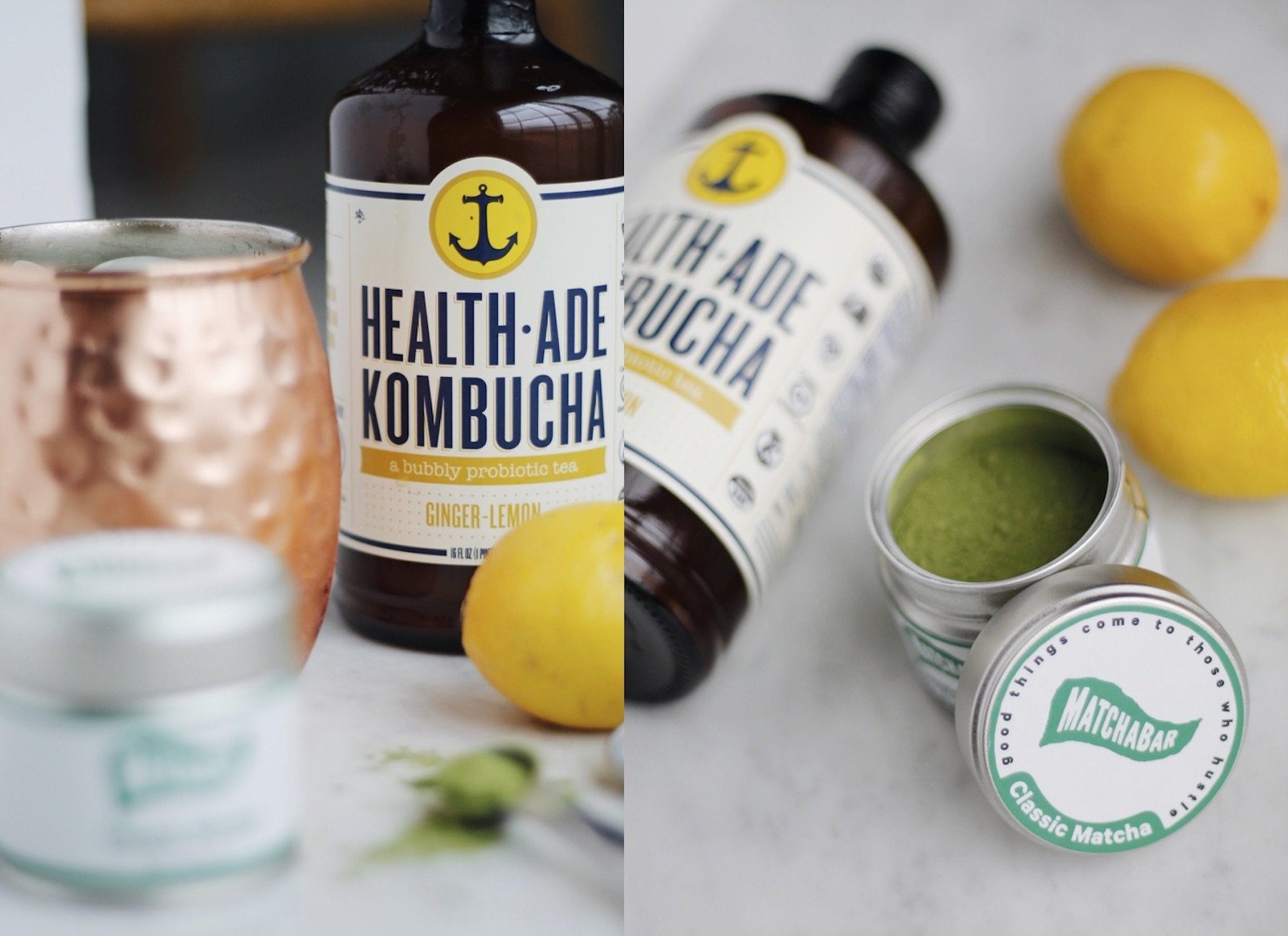 RECIPES |
A Healthy Cocktail That Tastes Like Summer
Copied URL to clipboard!
The following is a guest post by Cassidy Wendell, a Montana-based wellness blogger. Find Cassidy's blog here
In order to make the most out our short summer, you can usually find the locals playing in the mountains, fishing the rivers and streams, and throwing the best BBQ's whenever the temp hits above 50 degrees. People here come alive with the sun, and it definitely shows.
With less than three months of consistent sunshine a year, that can leave a lot of room for gloomier days – and ain't nobody got time for that!
To combat the dreariness, I came up with a healthier version of a Moscow Mule that literally tastes like summer. Now, I can get those feel-good vibes whenever I want.
This healthy cocktail uses Matcha Bar matcha powder for a dose of antioxidants, the Ginger-Lemon Health-Ade Kombucha for less sugar and more flavor, and a hint of honey to really bring it to life!
Give it a try next time you're responsible for the drinks at a BBQ or when the temp gets just right. It's also great without any alcohol, and tastes just as good.
MATCHA BAR GINGER MULE
INGREDIENTS:
1.5 oz Premium Vodka of choice
¼ tsp Matcha Bar Classic Matcha
½ tsp Raw Honey
1-2 oz Sparkling Water
1 Lemon Wedge
DIRECTIONS:
Place the matcha into a bowl and add in a ¼ cup of water. Use a matcha whisk (or something similar) to mix the matcha thoroughly into the water. You want to make sure there are no chunks. Set aside.
Fill a copper cup (you can use a mason jar if you don't have a copper mug!) with ice. Add in vodka, kombucha, honey, and matcha mixture. Stir continuously until well mixed. Top with sparkling water. Garnish with straw and lemon wedge.
Enjoy!
ABOUT CASS:
After losing a parent in 2013, Cass began blogging as a way to express her stress and emotions. Little did she know, this online outlet would open up a whole new world of opportunities as well as an exciting and meaningful career path in the digital space.
Cass is now a full-time wellness blogger, social media consultant, and brand strategists who specializes in developing authentic communities both online and off. When she's not trail running down a mountain or grabbing a drink with a friend, you can find Cass tucked away in her Bozeman home, sipping her Cayenne Cleanse, and writing about all things real, relatable, and healthy.
Today's blog is written by our very own Daina Trout, MS, MPH
Catch up on The Digest
Your go-to spot for digestible gut-talk