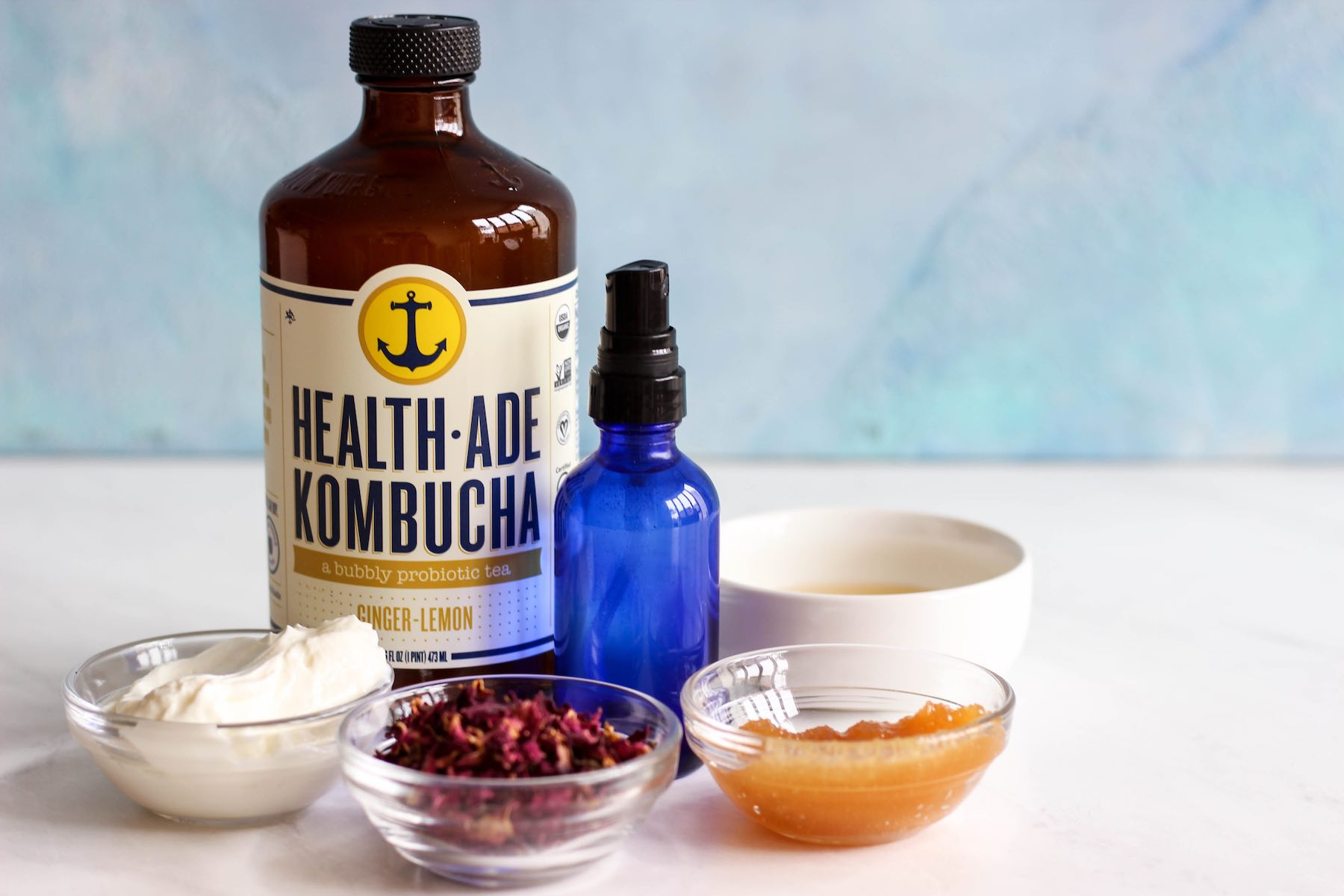 KOMBUCHA 101 |
7 Ways to Use Food in a Clean Beauty Routine
Copied URL to clipboard!
The following is a guest post by Leah Vanderveldt, a Brooklyn-based wellness writer and recipe developer. You can find Leah's blog here.
In my search for cleaner, greener beauty products (as in products made with minimal non-toxic and body-friendly ingredients), I've found that a lot of food and pantry items are actually great for skincare. Like, glowier, softer, and less blemish-y kind of great.
Okay, before you dismiss me as weird or just completely nuts, hear me out. I loving using food as beauty products because:
I know exactly what's in them and can identify all the ingredients
It's super affordable — even if you're paying for the good raw organic honey (which I encourage) it's still as affordable if not more so than a basic drug store brand cleanser
It's easy — you probably already have most of this stuff already
I actually see the benefits on my skin in a real way
It wastes less packaging AND food — think about your beauty product graveyard. At least if you don't like using it on your skin, you can cook with it!
#1. HONEY AS CLEANSER
Honey is antibacterial and anti-inflammatory, making it great for gently cleaning your face, reducing redness, and moisturizing. Is it sticky? Yes. But does it also make your face soft, smooth, and more even-toned? Yes. I recommend using a raw honey to get some exfoliating action too.
How it use it: Splash your face with water, take a small spoonful of raw honey (a teaspoon or less) and rub it onto your face in circular motions (avoiding the skin around the eyes), scrubbing a little. Rinse until your face is free of any stickiness.
#2. YOGURT AS A FACEMASK
Yogurt contains lactic acid, which can help tighten pores, remove dead skin, and may even reduce fine lines.
How it use it: Take about a teaspoon of full-fat plain Greek yogurt and apply it a clean face. Lit sit for 10 minutes, then rinse away. Make sure to moisturize afterwards (I love squalane oil for this).
#3. ROSE WATER AS TONER
I use rosewater in teas and desserts but also put in a little spray bottle to use as a toner. It refreshes the skin, making it a little more plump and moisturized.
How it use it: Spray on after you wash your face, before you apply face oil/moisturizer.
#4. CHICKPEA FLOUR AS EXFOLIANT
You can also use ground up oats for this. I find that pre-ground chickpea flour has a nice fine grain for gentle exfoliation.
How it use it: Mix a small spoonful with a little water in the palm of your hand. Apply to face and scrub in circular motions for a few seconds. Rinse.
#5. KOMBUCHA FOR PROBIOTICS
Want glowing skin from within? Get some probiotics in your bod. Probiotics have proven benefits for the skin, so when you find something like kombucha that you love to drink, it's a no-brainer. Sip on a bubbly Health Ade brew daily to start improving your skin health.
How: Just drink it.
#6. APPLE CIDER VINEGAR AS SPOT TREATMENT
Apple cider vinegar restores the natural acidity that our skin needs to help protect it (which often gets stripped by harsh cleansers and products).
How it use it: Apply it to blemishes with a cotton swab or your finger. Leave it there to let it soak in.
#7. ALMOND OIL AS A MOISTURIZER
Using oil as a body moisturizer is great for sensitive skin (just beware of allergies — try olive if you have reactions to nuts) and helps you retain moisture in your skin for longer.
How: Post-shower, before you dry off, rub a small handful into your arms, legs, etc. Wear a robe or loose clothing for 10 minutes as it soaks into the skin.
Have a convinced you to give one of these a try? I'd love to hear about your experiences incorporating food into your skincare routine.
Today's blog is written by our very own Daina Trout, MS, MPH
Catch up on The Digest
Your go-to spot for digestible gut-talk