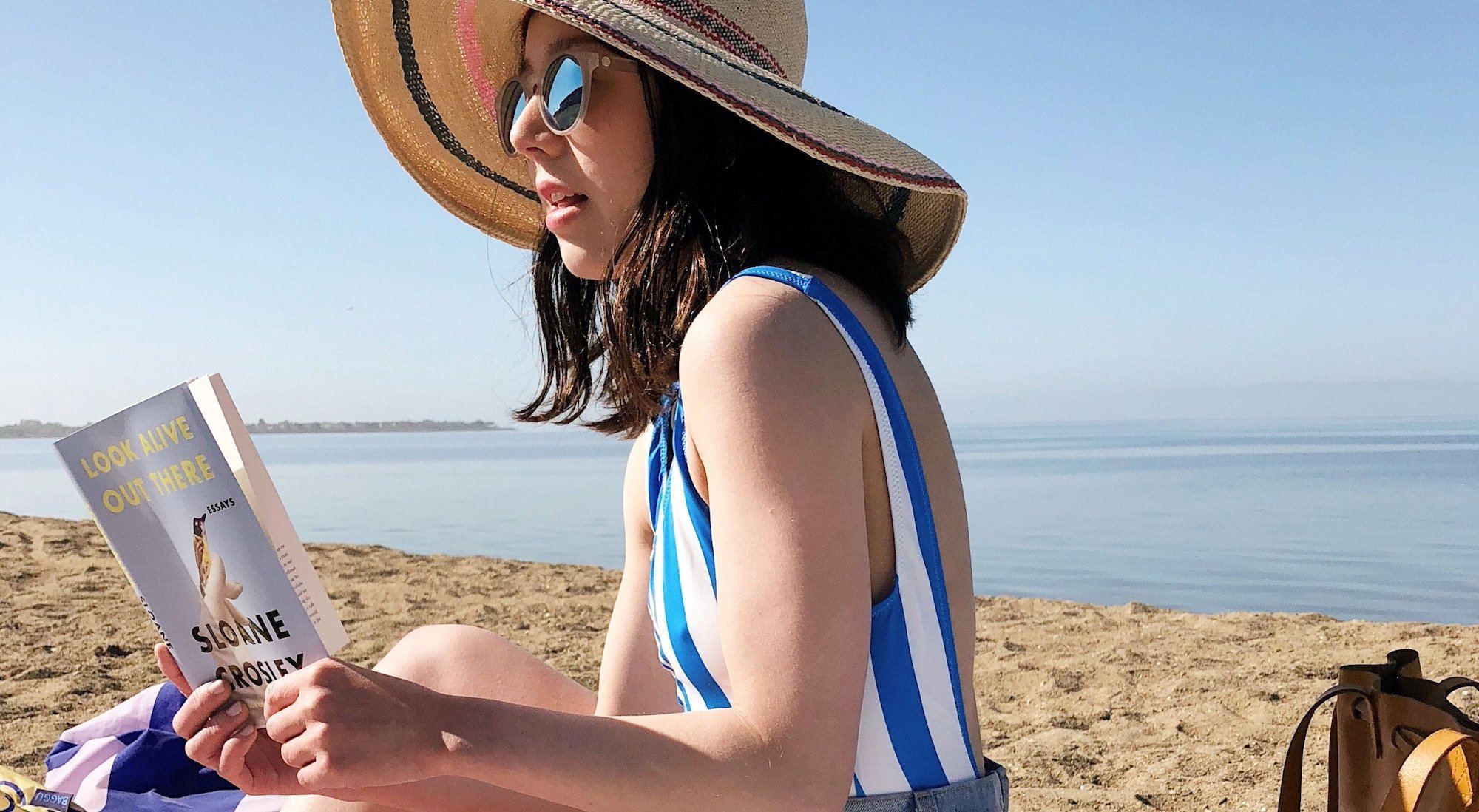 HEALTH AND WELLNESS |
9 Summer Beach Reads we Can't Put Down
Copied URL to clipboard!
The following is a guest post by Micaela Hoo, a blogger, photographer, and graphic designer who loves color, crunchy apples, summertime, and self-care. You can find Micaela's blog here.
I've been a voracious reader ever since I was a child. Unfortunately, I don't have nearly as much time to keep up with the a-book-a-week pace I used to ascribe to during my elementary and middle school years.
However, my schedule always lightens up a bit in the summer, so I try to schedule in more time to read. Reading is a wonderful relaxing yet mentally active activity.
There is nothing I love more than reading a book by the beach with a refreshing drink. Thankfully, the weather in the Bay Area has been clearing up which means many beach days are in my future! Here are a few books on my summer reading 2018 list:
Things Are What You Make of Them: Life Advice for Creatives by Adam J. Kurtz
I first discovered Adam J. Kurtz on Instagram and fell in love with his work. He's a NYC-based artist who makes prints, pins, hats, notebooks, and other gifty items with cheeky sayings. He recently came out with a book that contains relatable essays of the ups and downs of being a creative person in the world.
The Wife Between Us by Greer Hendricks and Sarah Pekkanen
My mom introduced me to this book after she finished reading it herself. It's a psychological thriller about a man whose jealous ex-wife desperately wants to stop him from remarrying. Amblin Partners picked up the book to turn into a movie which is giving me all the more motivation to read the book before the movie comes out.
The Oracle Year by Charles Soule
I don't read a lot of sci-fi, but this book seems like the perfect marriage between sci-fi and comedy. It's about Will Dando, a sometimes-employed, 20-something-year-old bass player who wakes up one day with 108 predictions about the future in his head. Will creates a website to anonymously share his predictions and gets offered millions from global corporations to gain exclusive access to his prophecies. Before long, Will also create high-powered enemies, like the US government.
Sophia of Silicon Valley by Anna Yen 
The title of this book jumped out at me because I live in San Francisco and am well familiar with the culture of Silicon Valley. The book follows a recent grad named Sophia Young, as she's fired from an investment bank, rises through the ranks at a top Silicon Valley law firm in the mid-90s, and eventually becomes an investor relations guru. While Yen's book is fiction, the people and companies portrayed in it are based on real life. The book is a lightly fictionalized retelling of Anna's own experiences working under Steve Jobs at Pixar and Elon Musk at Tesla.
Look Alive Out There: Essays by Sloane Crosley
This book is the quintessential summer beach read. They're 16 humorous personal essays about a hustling full-time writer working hard to establish herself in New York City. The stories are funny, relatable, and sometimes far-fetched. On a broader scale, these anecdotes provide deeper meaning about life, relationships, and trying to make it big.
The Female Persuasion by Meg Wolitzer
I must admit that this book first caught my attention at the bookshop merely by its cover. The book tells the story of four main characters and addresses large social issues like feminism, intergenerational resentment, mentorship, and navigating life as a woman today.
Auntie Poldi and the Sicilian Lions (An Auntie Poldi Adventure) by Mario Giordano
This book stood out to me as the perfect page turning vacation book. It's a dark comedy about a woman who retires to Sicily on her 60th birthday to spend the latter part of her years relaxing with good wine, the sea, and friendly tourists. All this takes a turn when her handyman goes missing, is discovered murdered, and all fingers point to her.
The Secret Lives of Color by Kassia St Clair
More of an intellectual book than the others, The Secret Lives of Color takes a deep dive into 75 shades, dyes, and hues. It shows how these colors are an integral part of human civilization, culture, and society today. Some of the colors include Picasso's blue period, imperial purple, and punk's fluorescent pink.
Heart Talk: Poetic Wisdom for a Better Life by Cleo Wade
Cleo Wade's poetry first came into my awareness through a few friends reposting her work on Instagram. Her poetry covers taboo topics that everyone thinks of/goes through, but just doesn't know how to talk about. In addition to her book, Cleo is an inspirational follow on Instagram.
Have you read any of these books? Would love to hear your summer reading recommendations as well!
Today's blog is written by our very own Daina Trout, MS, MPH
Catch up on The Digest
Your go-to spot for digestible gut-talk