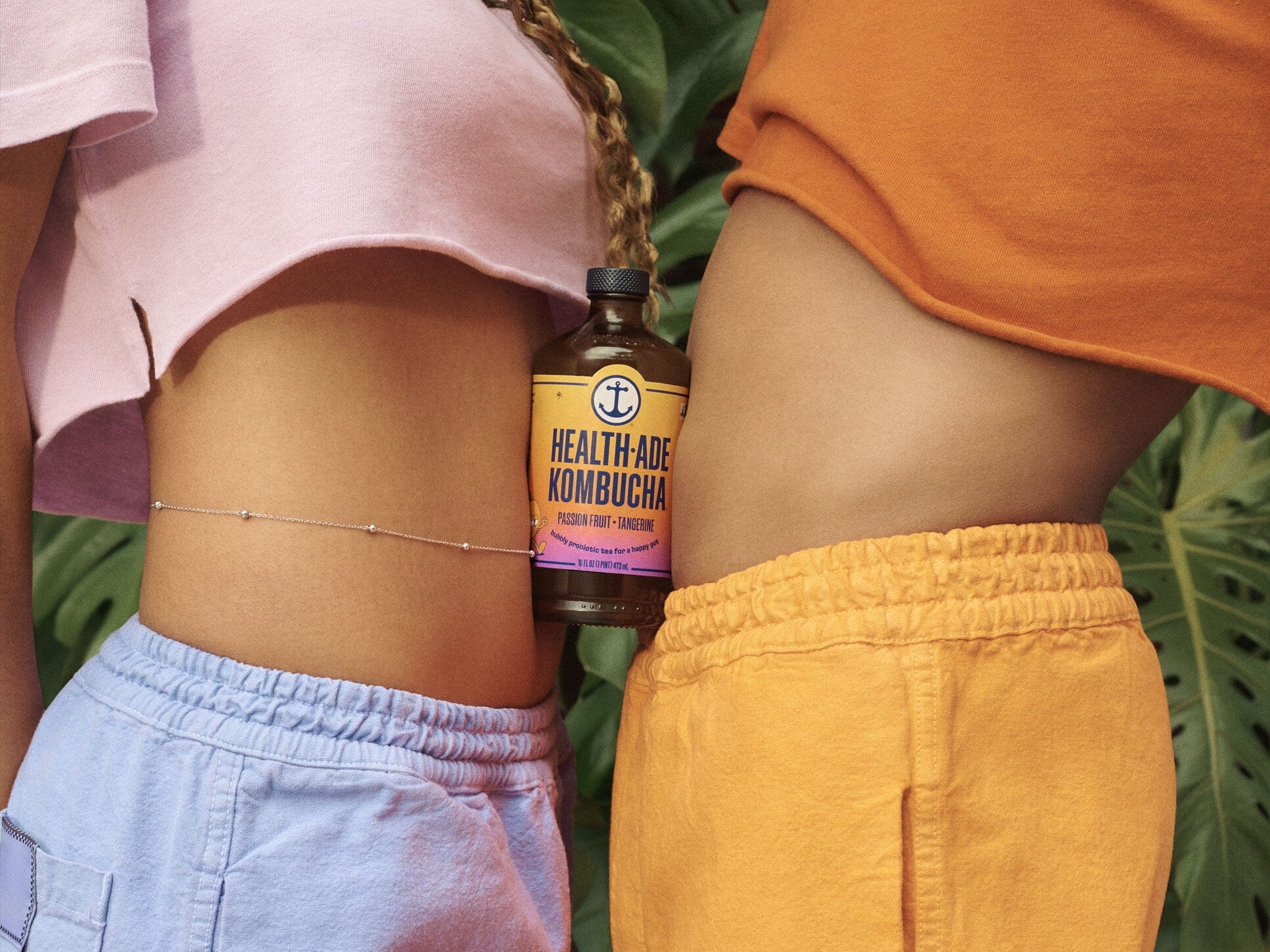 HEALTH AND WELLNESS |
Top Things We Learned About Gut Health in 2022
Copied URL to clipboard!
If you've been following along, you've heard quite a bit about gut health from us this year. We broke down the basics, commented on cutting edge research, and gave simple tips on how to be gut-healthy, ALL with the intention of getting you one step closer to a healthier gut and healthier you. If you missed it —or if you just like a good recap— here's the TLDR.
1. What is kombucha?
Can you believe 50% of the US still doesn't know what kombucha is!? Even those who drink it on the regular aren't always sure what it does…we break it down for you easy-style.
2. What are fermented foods?
I think we've ALL gotten the memo that we need to eat more veggies and fruits, but fermented foods are still so unknown in comparison. Because they contain PRE-biotics, PRO-biotics, and POST-biotics, fermented foods are chart-toppers when it comes to gut-healthy superfoods. Get the lowdown on all things fermented in our Fermented Foods post.
3. How to tell if your gut is off track.
If you're already convinced that gut health is central to whole body health, the next thing to ask would be – how do I know if my gut is off? We got you covered in Digestion + Your Microbiome. At the top of the list is your poop. You should be pooping every day, it should be easy to go, and it should look like sausage. If that's not happening on the regular, something's likely off with your microbiome.
4. How to stock a gut-healthy fridge.
Let's say you know something's off. The next step would be to start feeding your gut right! Read more on How to Stock a Gut-Friendly Fridge (spoiler: it's plenty of fruits and veggies, lots of fermented foods and drinks, and prebiotic drinks).
5. What's REALLY bad for your gut.
We went deep on 3 things that really aren't good for your gut— for example: alcohol, stevia, and antibiotics. Given many Americans ingest these on the regular, it might be time to take stock, and weigh the pros and cons of including each in your life.
6. A healthy gut is CRAZY good for your overall health.
Ok, I know this one is a bit of compilation — but it's worth doubling down on the fact that gut health is essentially ALL health. We've talked not only about what your gut is, but also how it impacts sleep, mood, inflammation, immunity, and skin health, (and of course, digestion). Gut health is so CENTRAL to your overall health that the first step in managing most health issues might just be to look inward and check in with your gut.
7. Gut health is a daily habit.
Probably the most important thing I can stress is that you can't "get" a healthy gut by eating a bite of sauerkraut once you start to feel off. Rather, the gut needs to be regularly replenished and fed. That means you have to adopt gut healthy habits and make a routine out of caring for your microbiome, if you want to have a happy gut.
We want to thank you SO much for following along this year, as we've explored so many topics around gut health. I, for one, am EXCITED about all the science continuing to explode around the importance of our microbiome – and hope you'll join us in 2023 as we continue to dig in and dive deep. Until then, the whole team at Health-Ade wants to wish you the HAPPIEST and HEALTHIEST of holidays in the coming weeks. We hope your days are filled with whatever your heart and soul need to FOLLOW YOUR GUT and just be you. If that means your days are filled with a little more kombucha, we're honored to be your sidekick too.
Today's blog is written by our very own Daina Trout, MS, MPH
Catch up on The Digest
Your go-to spot for digestible gut-talk