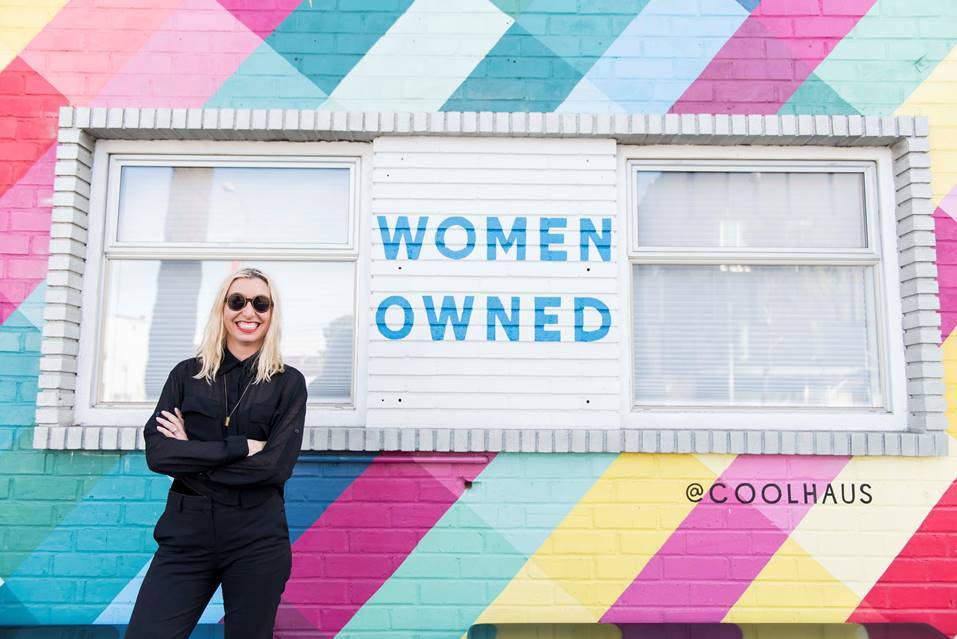 OTHER |
Follow Your Gut: Natasha Case of Coolhaus On Trusting Your Instincts
Copied URL to clipboard!
Explain who you are and what you do.
I'm Natasha Case, CEO and Co-Founder of Coolhaus Ice Cream. I oversee brand and innovation, so that means, for example, developing fun new flavors and product lines from our pints, to our sammies and beyond, to designing packaging/merchandising. I lead our marketing department and I oversee the events business (trucks) and shops from a branding and strategic perspective… and I continuously work to build relationships that'll keep Coolhaus at the top of its game… partnerships, collaborations, and more!
Your motivation to start Coolhaus- where did it come from? Tell us the story!
I majored in architecture in college at UC Berkeley and then began to explore the intersection of food and architecture (I called it "Farchitecture") and how design could enhance your eating experience while in grad school at UCLA. After graduating, I was an architectural intern at Walt Disney's hotel & masterplanning division, and around that time I started baking cookies and making ice cream and naming the ice cream sandwich combinations after famous architects and architectural movements. The punny product was comic relief among our staff since the recession hit just after I started, and there were a bunch of layoffs.
During that period I met Freya Estreller, who is now my wife, and she helped me make those ice cream sandwiches behind the scenes while also crunching the numbers to turn our hobby into an actual business. A few months later we bought a beat-up postal van on Craigslist and turned it into an ice cream truck for our ice cream sandwich line, which we officially named Coolhaus after architect Rem Koolhaas, Bauhaus– the minimalist design and lifestyle movement of the 1920's and 1930's in Germany– and because the ice cream sandwiches looked like tiny cold houses! Then we drove out to Coachella (actually, we got it towed - because it still was undriveable! It's called bootstrapping, people!) in April 2009 to make our debut, and thankfully the festival helped us build buzz through a loyal social media following and a ton of viral press, and before we knew it, we were in business!
What does a typical day look like for you?
No two days are the same. I try to exercise as routinely as I can, 5 days a week. Freya and I are currently doing the Klean LA meal program as part of Lacey Stone's Bootcamp to stay fit and energized - so her classes are taking up a lot of our mornings these days. I'll spend some time with our son Remy in the morning and we'll all have breakfast together, typically. He loves greek yogurt or eggs!

My day is then a mixture of meetings with potential new partners, investors, clients, internally with my team, a lot of PR and interviews, and overseeing product development, brand and other departments. I make sure I'm never at my desk for more than 50% of the day. If you're just sitting at the computer all day then you're missing a piece of getting the actual work done, in my opinion. Evenings - Freya and I are very social, we almost always have a dinner or event to go to… and we love going to sports games with Remy!
Who or what inspires you?
Seeing how much joy the product brings our consumers is really special, and the fact that everyone on my team devotes themselves to making the brand and culture of Coolhaus as amazing as it is. And of course Freya and Remy inspire me daily! I'm especially inspired by Remy's incredible basketball moves (and he's not even two years-old…).
How have things in your life changed since starting your own business?
Oh, it's night and day. The core of my life has stayed the same, but the kind of empowerment and freedom and flexibility I'm experiencing now are all from starting Coolhaus. I would access an intense work ethic at different points of my life like in grad school, for example, which was very demanding… but ever since starting my own business it's been on a constant, steady high. The job has taught me how important it is to be detail oriented and organized, especially where hospitality and customer service are concerned. And of course - to unleash my innermost, authentic creativity with really cool application. It's very fulfilling and purposeful. What I do combines all of the things that are in my DNA that can now really prosper.
Describe the "happiest and healthiest" version of yourself.
It would be a combination of enjoying life with friends and family, eating delicious food, drinking natural wine, working out, eating really healthy, and getting the right amount of sleep… and a trip to Crystal Spa with my sister! All that, while maintaining a good balance between being independent and spending quality time with Freya and Remy.
Best advice you ever received?
Our original angel investor, Bobby Margolis, once told me, "You can walk through a wall when you don't know it's there."
One thing on your bucket list?
Going to the Super Bowl (which we are about to do!!!), going to Thailand and going back to Japan. Everyone raves about safaris too - that would be awesome.
Loaded question - Favorite Coolhaus flavor?
Oh man…Right now I'd have to say it's probably a tie between our Milk and Cookie Crumb Pint and the Dairy Free Peanut Butter Fudge Pint, but I'm also loving the Dairy Free Chocolate Chip Vanilla Sammie…this is hard!
What's up next for you and the rest of the Coolhaus team?
We've got all kinds of novelty flavors in the works for 2020, but we're currently really excited about our dairy free line launching this March!
What does "Follow Your Gut" mean to you?
How important instincts are in making big choices in business and in life.
See how other Business Entrepreneurs are showing you how to "follow your gut" in their own words and how Health-Ade founders followed their gut.
Today's blog is written by our very own Daina Trout, MS, MPH
Catch up on The Digest
Your go-to spot for digestible gut-talk