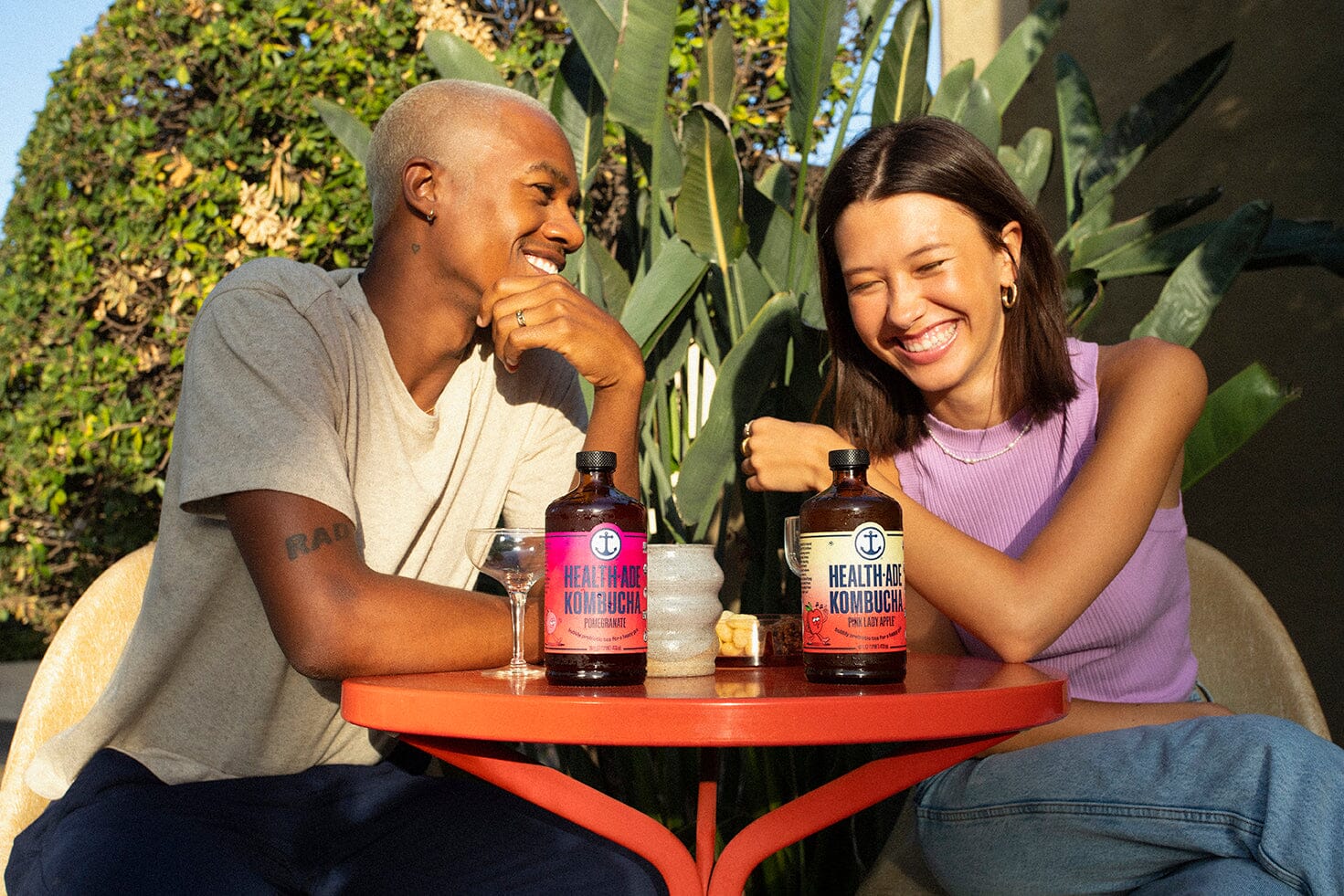 HEALTH AND WELLNESS |
Easy daily habits to integrate into your routine to promote gut health
Copied URL to clipboard!
As the end of summer inches closer with each passing day, I can't help but think about how this time of year always feels like a return to routine. With summer vacations ending, travel schedules slowing down, and regular work and school days just around the corner, it can be a great time to consider what feel-good routines you want to prioritize heading into fall and beyond.
Here at Health-Ade, we're all about following your gut when it comes to building your self-care routines. This means that you get to decide what feels best for you, your body, and your schedule! But if you're looking for some suggestions on non-diet ways to support your gut health as you get back into routine, I have a few ideas for you…
1. Avoid flashy "quick fixes" and fad diets.
If you spend any time at all on social media, odds are you see ads for new dieting apps, "detoxes," and other quick fix programs on a regular basis. As we head into fall, you may feel that these offers are particularly enticing because they promise structures and plans to help you feel energized, in control, and "back on track" after summer.
The tricky thing about these offers, though, is that they involve making extreme and rigid changes to your daily life that are often unsustainable in the long run. Ironically, these changes that are encouraged in the name of "health" can end up having negative impacts on both your physical and mental health in the long run. Not to mention your gut health! Many of these fad diets promote cutting out or heavily restricting entire food groups, which can limit the variety of foods you're introducing to your gut. Remember: variety is a good thing for gut health!
2. Packing that lunchbox? Add a source of fiber and staying power!
Good nutrition is all about adding IN, not restricting unnecessarily. I love talking with my clients about an "add in" mindset when it comes to making eating decisions. This approach encourages variety and offers so much more room for flexibility, satisfaction, and creativity with food.
As you get back into a routine of building meals and snacks for yourself and your family, try to add a source of fiber and staying power to most meals. Fiber is found in fruits, veggies, whole grains, nuts, and seeds. Fiber containing foods help keep things moving in your GI tract and they're also sources of prebiotics (aka the food that fuels all the good bacteria living in your gut). Staying power refers to the ability of foods to keep you full and fueled. Meals with staying power often include a source of protein, fats, carbohydrates, and fiber.
Don't forget about the importance of hydration, too. Keep your reusable water bottle filled and consider tossing a bottle or can of Health-Ade into your lunchbox as well! Who doesn't love a midday probiotic pick-me-up?
3. Consider your mental health.
Getting back into routine can sometimes feel stressful and overwhelming. Stress-related symptoms felt in the GI tract can vary greatly from person to person, but common ones include shifts in hunger cues, changes in bowel movements, nausea, and other digestive discomforts. Chronic stress is also associated with reduced microbial diversity in the gut microbiome!
Try to remind yourself that feel-good habits aren't built in a day or even a week. Start with small behaviors and show up for yourself as consistently as you can but remember that returning to a routine doesn't have to be an all or nothing effort. Caring for yourself will look a bit different day to day, and that's okay! Make sure your routine allows time for rest and checking in with yourself.
4. Swap your cocktails for mocktails.
Frequent alcohol use can cause disruption in many areas of health, including gut health. Summer tends to bring with it many opportunities to venture out and enjoy meals (and drinks) with friends. So fun! But if you're looking for alcohol to be less a part of your routine heading into the fall, consider swapping some of your cocktails for mocktails.
Kombucha makes a great base for mocktails. Looking for some recipes to get you started? Check these out!
5. Explore movement.
Research suggests that exercise can increase the number of beneficial microbial species present in the gut (1). Low intensity exercise (think: walking, yoga, rowing, pilates, swimming, etc.) can also reduce stool transit time, which promotes bowel regularity and shortens the contact time between pathogens and the mucus layering your intestines. This means that exercise has protective effects, including reducing the risk of colon cancer, inflammatory bowel disease (IBD), and diverticulosis (2). Pretty neat, right?
Consider exploring some forms of movement that are enjoyable and accessible to you as you get back into the groove of work, school, and whatever else fall has in store for you. Try your best to keep that "all or nothing" thinking at bay when it comes to movement, too. Movement doesn't have to be intense or time-consuming to be beneficial!
Here's to enjoying the final few weeks of summer and easing back into your feel-good routine. You got this, friend. Cheers!
Sources:
1. https://www.ncbi.nlm.nih.gov/pmc/articles/PMC5357536/#B47
2. https://www.ncbi.nlm.nih.gov/pmc/articles/PMC1760153/
This blog post was written by Claire Chewning, RDN & Certified Intuitive Eating Counselor
Catch up on The Digest
Your go-to spot for digestible gut-talk