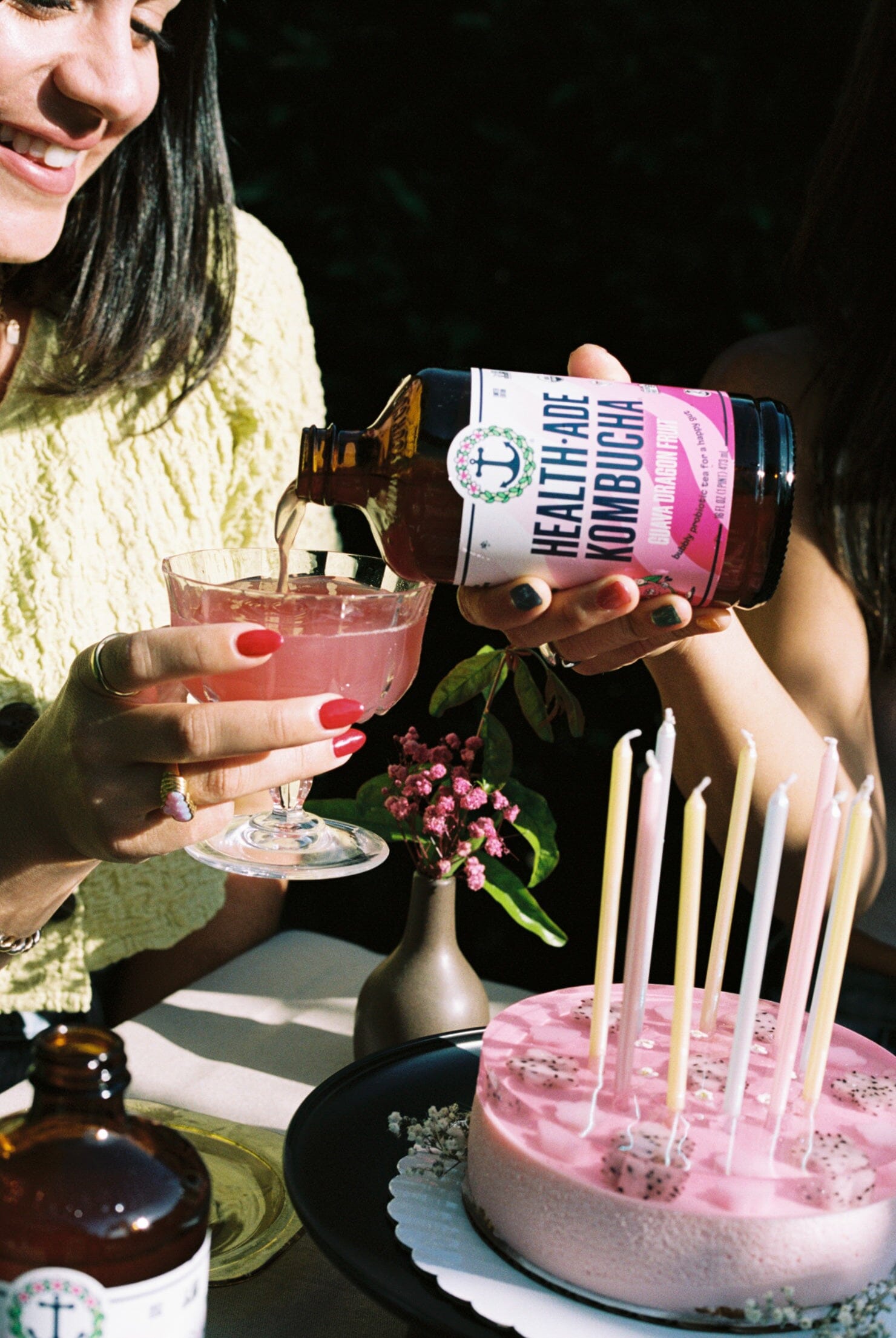 HEALTH AND WELLNESS |
A Deep Dive on our Seasonal Flavor: Guava Dragon Fruit!
Copied URL to clipboard!
Kombucha…with guava…and dragon fruit…oh my! Our new seasonal flavor is here just in time for summer, so let's break down some of the belly-loving goodness you'll find in each refreshing sip.
Say Hello to Guava Dragon Fruit
Our signature organic kombucha is infused with pink and white guava puree, dragon fruit puree, and endless summer vibes for a seasonal flavor you won't want to miss!
Guava is a tree that grows in Central and South America. Guava trees produce incredibly nutrient dense fruits mostly known for their antioxidant properties, vitamin C, potassium, and fiber content. Some research shows that guava may even help lower blood pressure, total cholesterol levels, and increase HDL cholesterol levels (the "good" cholesterol) (1, 2).
Dragon Fruit, also known as a pitaya, is another tropical fruit native to Mexico and Central America. In addition to being one of the most vibrant fruits, dragon fruit is known for its seed-speckled pulp that's loaded with fiber. Like Guava, this fruit also contains several potent antioxidants, including vitamin C, carotenoids, and betalains (3). Antioxidants work to neutralize unstable molecules in the body that can cause cell damage over time (otherwise known as "free radicals").
As the base of this bubbly beverage, you'll find our signature organic kombucha. Kombucha is a fermented tea made with four key ingredients: tea, water, sugar, and a kombucha culture (often referred to as a SCOBY, a "symbiotic culture of bacteria and yeast"). Don't be afraid of the sugar listed as an ingredient here—it's necessary for the fermentation process and all REAL kombucha contains sugar. Kombucha is a tangy, effervescent source of living, good-for-the-gut microorganisms and organic acids. Both flavorful and functional, what's not to love about kombucha?!
Ways to Enjoy Guava Dragon Fruit IRL
Wondering how you can make the most of this seasonal favorite? Here are some ideas that will have you saying "cheers!" all summer long:
Pop a chilled bottle out of the fridge and enjoy straight up—simple, but it won't disappoint!
Pack a few bottles a refreshing twist at your next picnic or get-together.
Trying to reduce your soda or alcohol consumption this summer? BYOB (bring your own booch) to your summer cookouts, parties, and other social gatherings.
Speaking of reducing your alcohol intake…looking for a mocktail recipe to help you test out this flavor? We got you!
Guava Dragon Fruit Mocktail Recipe
8 fl oz Health-Ade Guava Dragon Fruit Kombucha
Juice of half a lime (about 1 Tbsp lime juice)
3 fl oz coconut water
Sparkling water to top
Grab a cup with ice and add kombucha, lime juice, and coconut water. Stir gently and top with sparkling water. Garnish with a fresh lime wheel and a few sprinkles of shredded coconut, if desired.
Here's to a fun, sunny, and hydrated summer ahead!
This blog post was written by Claire Chewning, RDN & Certified Intuitive Eating Counselor
Catch up on The Digest
Your go-to spot for digestible gut-talk